Saturday 21st October
All day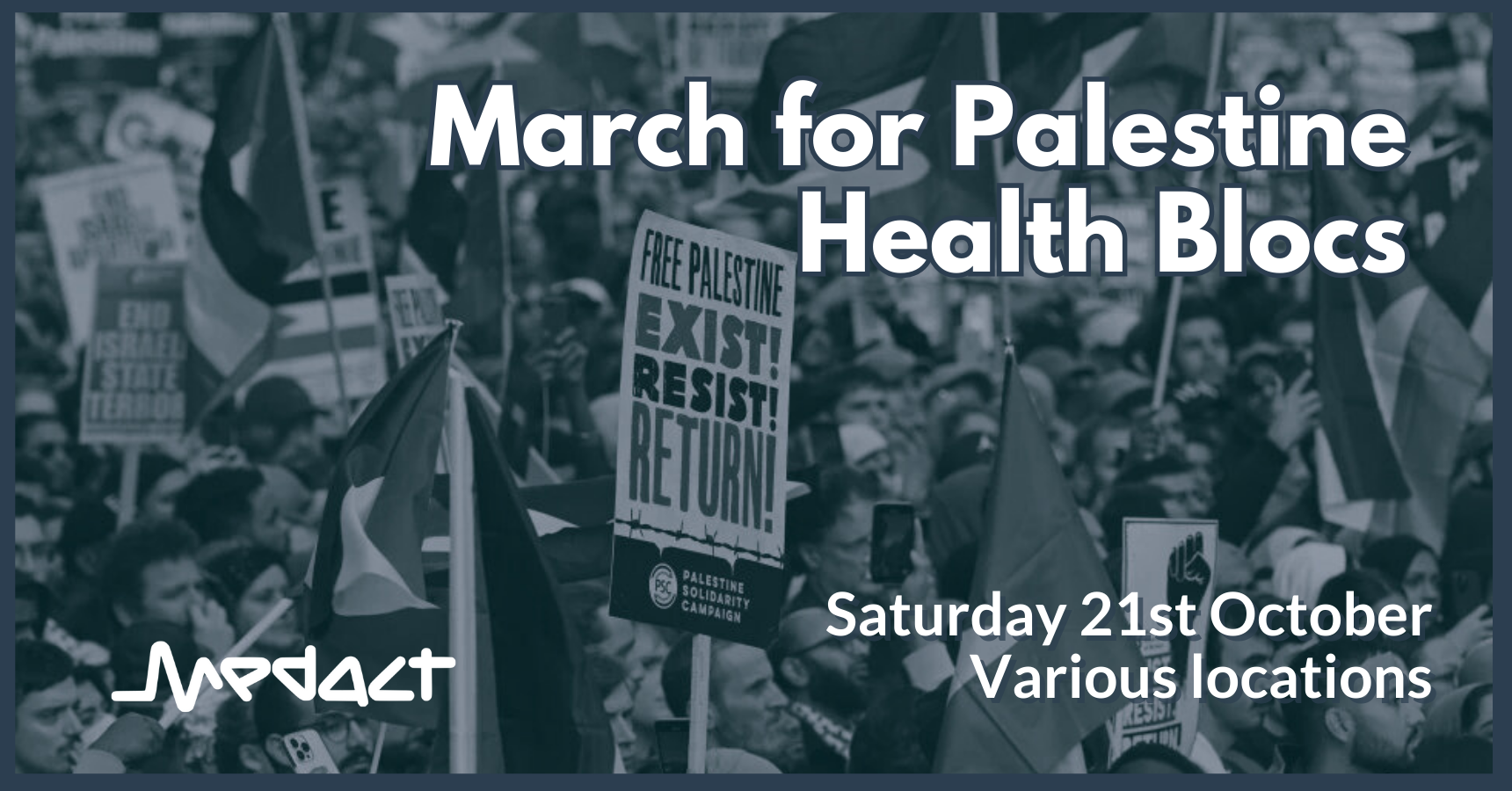 Join other health workers marching on Friday 20th October and Saturday October 21st to stand in solidarity with Palestine and call for an immediate ceasefire.
This week has seen horrific attacks and human rights abuses as Israel's bombardment of Gaza intensifies, following Hamas' attack and kidnapping of Israeli citizens on Saturday 7th October.
Upward of three thousand Palestinian civilians have been killed, with sources estimating almost half of fatalities being women and children, and many thousands more injured and without access to water, food or fuel.
Gaza's already under-resourced health system is under intense pressure with hospitals coming under fire, overcrowding leaving patients suffering on the floor, and a severe lack of essential equipment. We know health workers themselves are also among the fatalities of targeted attacks on hospitals.
Health workers must take a stand against the violence and against the targeting of health infrastructure in clear breach of international law. It is vital that we come together to show the UK government that it must end its complicity and do all it can to bring about a ceasefire!
Know your rights: Read this information from Netpol on marching.
Find details for how to get involved in the health-worker blocs below. These health blocs have been coordinated by health workers in the movement for health justice.
If you are interested in organising a health workers bloc at a solidarity demonstration near you, in a location not listed below, get in touch: [email protected]!
---
London
We'll be joining a health workers bloc at the National March for Palestine – Stop the War on Gaza!
When: 11:30am, to join the main demonstration at 12:00pm
Where: Marble Arch Fountains, Marble Arch, London – (map)
Wear: If you feel comfortable, wear things that identify you as a health worker, scrubs, stethoscope etc. The current forecast is cold and clear so dress warmly.
Remember: wear sturdy shoes and bring snacks, water and a fully charged phone.
Join the WhatsApp broadcast group:
If you'd like to buddy with someone else coming on the demo, or you just want to have a chat beforehand, let us know at [email protected].
---
Sheffield
When: Saturday 21st Oct, 12pm
Where: Sheffield City Hall, S1 2JA
Point of contact: Jordi – [email protected] (get in touch to join the WhatsApp group!)
---
North East
When: Saturday 21st Oct, 12pm
Where: BBC Newcastle Broadcasting House, Barrack Road, Newcastle upon Tyne, NE2 4NS
Point of contact: Kate – [email protected] (get in touch to join the WhatsApp group!)
---
Glasgow
When: Saturday 21st Oct, 2pm
Where: Buchanan Steps, 229 Buchanan St, Glasgow, G1 2NG
Point of contact: Marina – [email protected] (get in touch to join the WhatsApp group!)
---
Leeds
When: Saturday 21st Oct, meet at 12pm
Where: JD Sports Briggate, Leeds, LS1 6HF
March at 12.30 to BCC Yorkshire, St Peter's Square, Leeds, LS9 8AH
Point of contact: Emily – [email protected] (get in touch to join the WhatsApp group!)