Health blocs @ Global Day of Action for Climate Justice
Saturday 6th November @ 11:00 am

-

4:00 pm
Event Navigation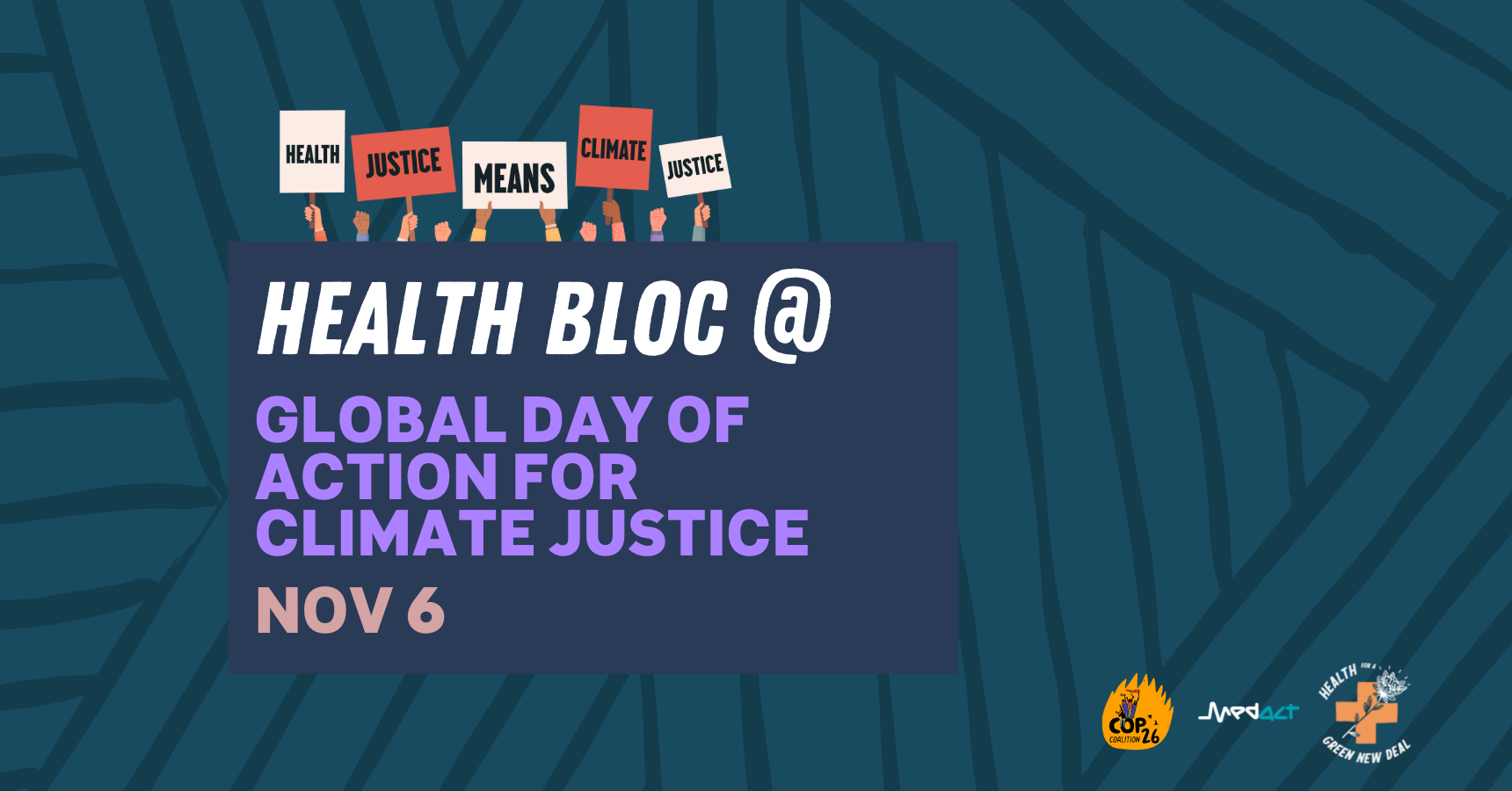 From climate to COVID-19, we are living through a period of multiple breaking points. We know that these crises not only overlap, but share the same causes.
While no one can escape the impacts of these crises, those who have done the least to cause them suffer the most. Whether it's the toxic air choking our towns and cities, flooded coastal areas, oil spills, or extreme storms and hot weather, environmental collapse is deepening health inequality, condemning everyone but the very wealthy and privileged to a lifetime of health risks.
On Saturday 6th November, as world leaders negotiate the global response to climate change at COP26 in Glasgow, people all over the world will take to the streets to demand climate justice. In the UK, marches are already being planned in: Glasgow, London, Sheffield, Leeds, Newcastle, Manchester, Oxford, Nottingham, Birmingham, Cardiff, Swansea, Plymouth, Northampton, Bristol and Brighton.
Health workers and students will be joining the marches for climate justice on 6th November, raising the banner for health justice as a 'health bloc'! Sign-up now and join your local health bloc on the day!
⛑ Action First Aiders ⛑
We're supporting the COP26 Coalition to train a group of Action First Aiders to support the Global Day of Action for Climate Justice. Action First Aid is a vital part of the infrastructure that our movement needs to take to the streets, by supporting each other we make it possible for more and more people to take part in demonstrations.
The training is open to anyone, no previous experience necessary. It will cover the overall principles of being an Action First Aider and providing care at demonstrations, some of the first aid skills you'll need on the day, holistic care including wellbeing, mental health, consent and privacy, and how everyone will coordinate on the day.
If you're interested, please tick the box when registering for more information about how to get trained and get involved.
Sign up now to join the action!