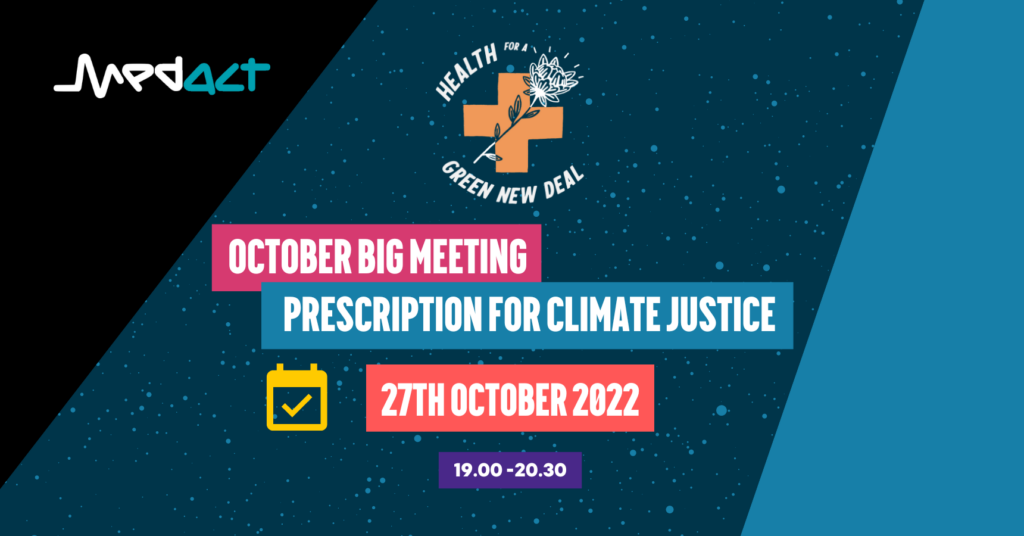 Last year, health workers across the UK started running climate clinics to engage their communities and put pressure on MPs to oppose new fossil fuels and support the Green New Deal Bill.
Almost a year since COP26, the government has approved new oil fields with up to 40 in the pipeline. At the same time, energy companies have recorded profits, whilst people are having to choose between heating and eating.
This year, we are going to build the pressure – join us online for the October Big Meeting of the Health for a Green New Deal campaign, where we will be coming together to:
Hear updates from local groups
Launch our brand new 'Prescription for Climate Justice' action guide
Practice persuasive conversations
Share plans around COP 27 Global Day of Action & the People's Health Tribunal
Whether you've been organising with us all along or are brand new to H4GND, the Big Meetings are the perfect opportunity to hear what's been happening, what we have planned and how you can get involved. If you have any questions about this event or the campaign, please email Rob ([email protected]) or Ben ([email protected]).