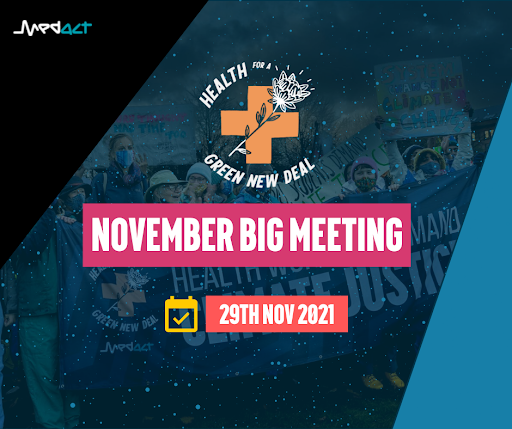 On Saturday 6th November, Health workers and students across the UK took to the streets in their 100s as part of the COP 26 Coalition Global Day of Action. In 17 cities and towns, we marched as Health Blocs demanding that health justice means climate justice. 
We also came together for The People's Health Hearing as part of the COP 26 Coalition's People's Summit for Climate Justice. We heard directly from people and communities at the frontlines of climate violence, who face the worst impacts whilst contributing the least to the crisis. It was a deeply moving space as we connected with allies across the world, who shared the health impacts of our extractive economic system. We concluded the hearing with hope as listeners shared their visions for health and climate justice. 
This is just the start. We are building the health movement for a transformative green new deal, one that calls to cut injustice and cut carbon to real zero. Now is the time for us to come together, to share our stories, our reflections and strategise for how we continue to build power for health and climate justice. 
For the Health for a Green New Deal November BIG Meeting, we'll hear updates from all the local groups that have taken actions, the COP 26 observers and reflections from the People's Health Hearing. Join us!