On 30th April, we'll stand in solidarity with communities whose health and lives have been devastated by Anglo American's mining operations across the Global South. Join us for lunch, discussions and some practical actions to hold this company to account.
Anglo American – some background
Anglo American operates in many parts of the Global South, leaving a trail of health destruction in its wake.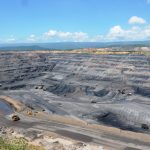 This mining giant owns a large stake in the infamous Cerrejón mine, a vast open pit coal mine in Colombia. Cerrejón has been long associated with human rights abuses including displacement, a lack of consultation with indigenous communities and serious harm to the health of local communities.
Communities living near the mine are forced to breath air that is heavy with coal dust and filled with the stench of burning. Many children suffer from respiratory problems; some become so ill that they cannot run or shout. Local hospitals are inundated with patients suffering from acute respiratory problems.
In Peru, Anglo American's Quellaveco project has raised serious concerns and opposition among local people. It is believed that copper mining in this region will use vast amounts of water in an area that is considered at high risk of drought and is heavily impacted by climate change.
There are fears that Anglo American's mining in Chile is speeding up the melting process of glaciers and leading to their disappearance in some cases.  Glacier disruption could have serious impacts on hydrological cycles in the country with potentially devastating impacts for large proportions of the Chilean population.
Anglo American and/or companies that Anglo American has part-owned, have also been associated with armed groups responsible for human rights abuses in the Democratic Republic of Congo. In the Philippines and South Africa, local communities have faced severe repression for protesting against mining operations. And in Ghana and Mali, local people have lived in fear as extractive activities have destroyed health, lands and livelihoods.
Companies like Anglo American are exacerbating global health inequities; their extractavism damages health in the Global South while much of their profits are concentrated in the Global North.
What will the event involve?
Part 1 – Lunch and discussion at Medact
We'll start with lunch at the Medact offices and discuss some practical action opportunities we can take as a healthcare community to hold Anglo American to account. Including;
How to use twitter and other media to get messages across to investors attending the Anglo American AGM.

Actions we can take to push for legally binding instruments to regulate the activities of multinational corporations like Anglo American.

Using fossil fuel divestment as a solidarity tactic.
Part 2 – Vigil at the Anglo American AGM
We'll leave the Medact offices at 13.00 and travel as a group to the Anglo American AGM at the Queen Elizabeth II Conference Centre Broad Sanctuary, Westminster, London SW1P 3EE.
We'll hold a vigil outside the AGM as the company's shareholders arrive.
Accessibility
If you have any accessibility requirements please contact [email protected] and we can organise travel from Medact to the vigil to meet your needs.
The venue for the vigil itself is flat and the nearest accessible toilets are two minutes walk away in Westminster Central Hall (see building-specific accessibility information). A portable sound system will be used for speeches. There will be some photography and filming with phones and SLR cameras, flash photography is unlikely. There are no seating areas. Email [email protected] if you require a foldable chair or for other information on accessibility.