Citizenship rules have been changed in India by the ruling Hindu Nationalist Party. The amendments made give preferential treatment to certain religious groups, explicitly barring Muslims, to gain citizenship in India. All this has led to communal violence against Muslims, who have had their homes, businesses, mosques and families targeted, most recently in Delhi.
It is important that the international community stands in solidarity with Muslim communities against this persecution and the recent spate of deadly violence in Delhi, before it escalates even further.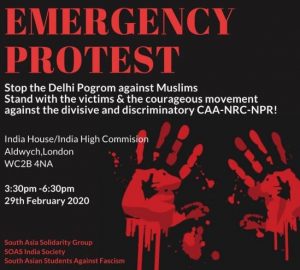 Join us at this emergency protest this Saturday 29 February outside India House/ the Indian High Commission in London. Medact staff members will be in attendance from 4:30-6:30pm – and we would love it if members joined us. Address details can be found below. 
This protest has been called by South Asia Solidarity Group, SOAS India Society and South Asian Students Against Fascism
If you are planning on joining us at this protest, you can call us on the day to find out where we are – 07851 325 817