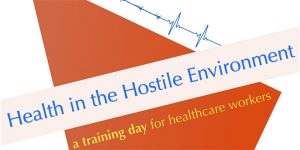 Docs Not Cops is a campaign group of NHS professionals and patients fighting to protect access to healthcare and resist the hostile environment within the NHS.
Docs Not Cops Glasgow are organising a free training day to help educate health care workers from across all disciplines on the negative impacts of the hostile environment and how we can come together to resist. No prior experience or knowledge is required.
The day will be at Civic House from 10am til 5pm on Saturday the 7th of March.
Confirmed speakers include: Medical Justice, Scottish Detainee Visitors, Unity, Ubuntu, Freedom from Torture and Just Right, Doctors of the World
There will be a series of workshops including:
An Introduction to the Asylum System
How the hostile environment impacts health
Living in Detention: Effects on Health
How Healthcare Professionals can resist the Hostile Environment
Working with survivors of torture
Mental health and the Asylum System
Legalities and realities of Healthcare Access
Systemic racism within the NHS
There'll be free lunch and coffee throughout the day. Civic House is accessible to wheelchair users, please contact with any queries regarding accessibility. We will also have Childcare available throughout the day.
The day is free but ticketed, please confirm attendance as places limited. All healthcare workers welcome!
Register here: https://bit.ly/3920VZa
Any questions about the day please email us at: [email protected]