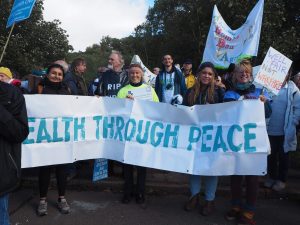 Earlier this month, over 276 health workers sent a letter to the UK government urging them to stop supporting the arms trade and arms fairs such as DSEI.
We invite you to join us in discussing the impacts of war and armed conflict on health, and of health workers working at the front lines in conflict zones.
We hope to also discuss how the health community can join the campaign to hold the UK government to account for its role, through for example facilitating the sale of arms to countries such as Saudi Arabia, in public health crises abroad as a result of conflict.
Speakers include:
– Rita Dayoub, a Syrian dentist, Academy Associate at Chatham House and founder of Health Workers at the Frontline
– Dr. Sara Beleil, Psychiatrist and Academic Secretary at the Sudan Doctors' Union UK
– Ann Feltham, Parliamentary Coordinator at Campaign Against the Arms Trade
Our building has step-free access, but this is not permanent, i.e. you need someone to help set up ramp at the front entrance or let you in via the back door through the bike shed. There are "standard" non-wide doorways through to the meeting rooms.