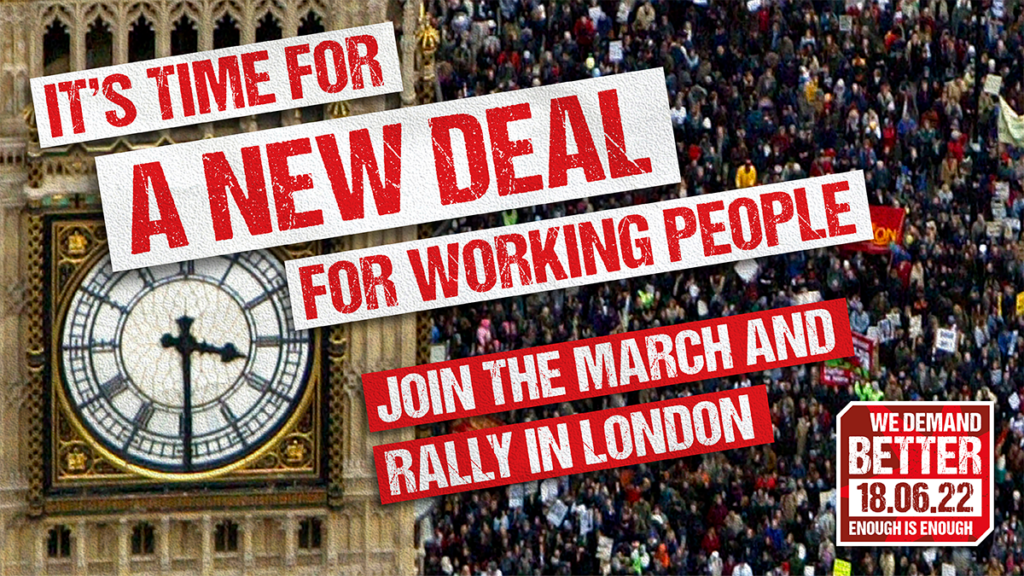 Portland Place, London | Assemble from 11am | March departs 12pm | Rally 1pm
On Saturday 18 June, the trade union movement is mobilising in London to tell this government that we demand better. Medact will be participating as a health bloc!
We are witnessing the impact of the cost of living crisis on the lives of our most vulnerable patients and communities. We are seeing the biggest squeeze on households in decades, with millions forced to choose between heating and eating. The Spring Budget didn't do anywhere near enough to lift the hardest hit out of financial hardship and poverty.
Ministers partied while people died. Now they do nothing while living standards plummet and P&O lays off hundreds of workers on the spot—an example of the eroding employment rights in a country where there are more people living in poverty at work than out of work.
We demand better!
A real pay rise for every worker and a real living wage for all
Respect and security for all workers: ban zero hours contracts, ban fire & rehire, decent sick pay
An end to racism at work
Tax energy profits to pay our bills
A raise to universal credit
Boost union bargaining rights
For those outside of London, use this TUC resource to find a free or low-cost coach.
Register to receive updates and more details closer to the time.