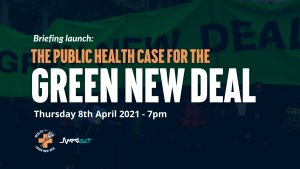 The Health for a Green New Deal campaign seeks to build mass support in the health community for a transformative Green New Deal and to organise health workers and students to advocate for a just transition to a zero-carbon society.
The Medact Climate & Health research cluster has been working on a briefing that sets out the public health case for a Green New Deal and sets out key actions that health workers and students can take to organise.
Join us for a webinar to launch the briefing on Thursday 8th April from 7.00pm – 8.30pm.
At the launch we will be joined by a range of guest speakers including:
Dr Helen Stokes Lampard – The Chair of the Academy of Royal Medical Societies, and Chair of the Board for the National Academy for Social Prescribing.
Guppi Bola – T

he chair of Joint Council For The Welfare Of Immigrants

and author of the influential 'Reimagining Public Health' report published by Commonwealth. 

Dr Andrew Harmer – A senior lecture at the Centre for Global Public Health who will be providing insights as a Medact member and one of the briefing's authors!
Hannah Martin –

co-director of Green New Deal UK

who are campaigning across the UK for a transformative Green New Deal.