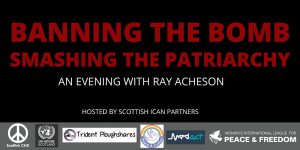 Our friends at Scottish CND are hosting an evening of conversation and readings with nuclear disarmament activist, Ray Acheson, to celebrate the release of their new book: "Banning the Bomb, Smashing the Patriarchy".
On 22 January 2021, the Treaty on the Prohibition of Nuclear Weapons came into force. In the words of ICAN's first staff member, Felicity Ruby, in her book "Acheson tells the story of seven decades of activism transforming an impossible dream into international law."
The book offers a look inside the antinuclear movement and the recent successful campaign to ban the bomb — from scrappy organising to winning the Nobel Peace Prize in 2017 and achieving a landmark UN Treaty banning nuclear weapons.