Saturday 30th September
@
11:00 am
–
4:00 pm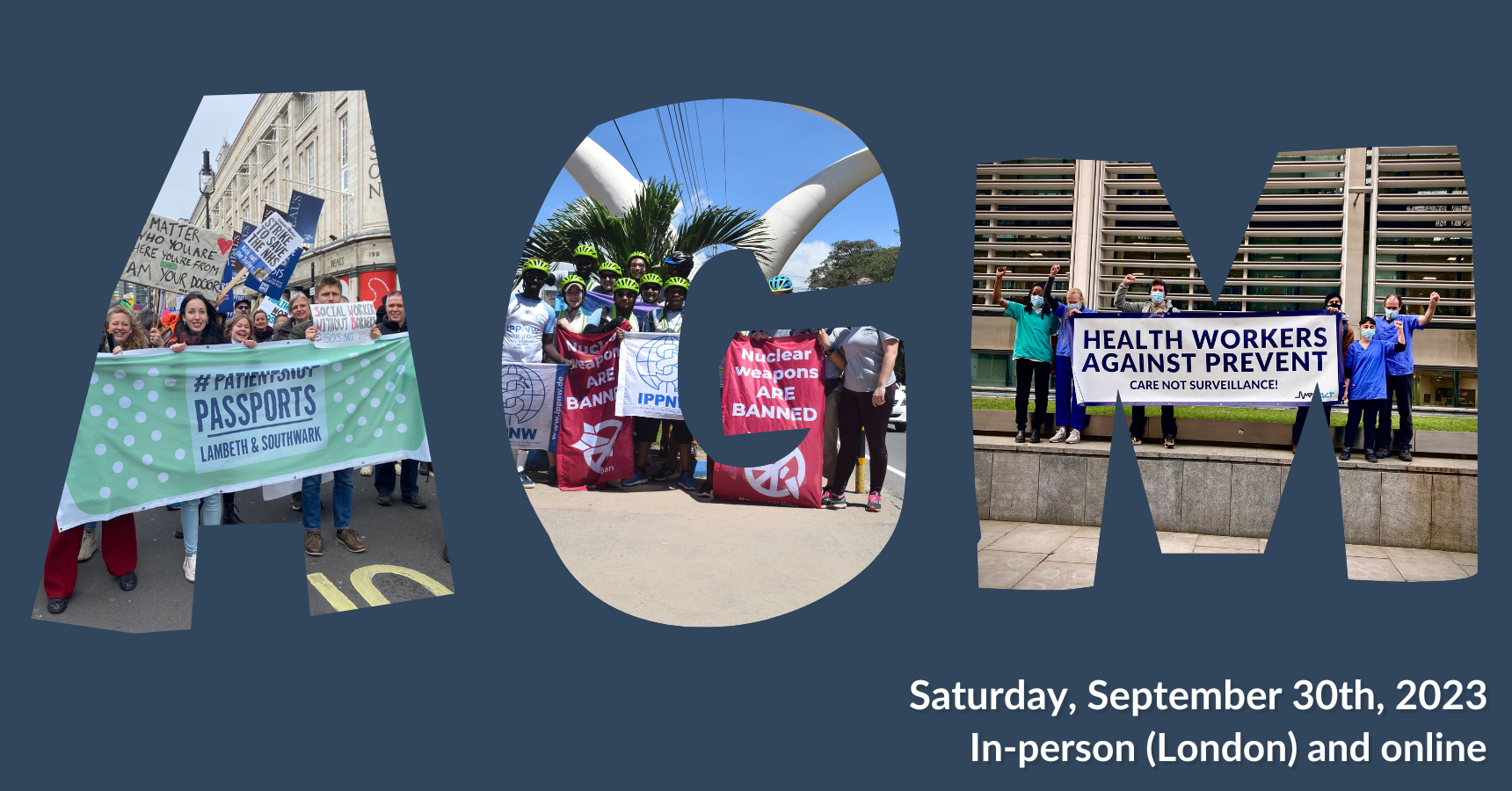 The AGM is our annual opportunity to come together and explore the overall running of Medact. As always, we're excited to bring together members old and new from the UK and beyond. In addition to completing essential governance matters, this year we will be exploring elements of our new Organisational Strategy.
Everyone is welcome to join the meeting, but you must be a member to propose and vote on motions or in elections. If you would like to get involved in running Medact, why not join today?
Submitting motions
The AGM is a space for members to put forward proposals for changes you would like to see to the running of Medact. If you would like to submit a motion, please read "Decision Making in Medact: Governance and AGM" and contact [email protected] for a template form. If you would like support in drafting a motion, contact Ben on [email protected]. The deadline for submitting motions is 9am, Monday September 18th. You must be a member to submit a motion, and it needs to be seconded by another member.
Election of Trustees
The AGM is where members can elect Trustees, who are responsible for the overall governance of Medact. The deadline for Trustee applications for this year's AGM has passed.
Logistics
We are hosting the AGM as a hybrid event with the option to attend in-person in London at our offices or online via Zoom. Register to let us know you are coming below. If you plan to attend in-person, please take a Covid-19 Lateral Flow Test before leaving home. If you test positive, you can still attend online if you feel able. Masks are not mandatory but welcomed and we will have some available on-site.
If you need support getting to the AGM, let us know when you register. If you need support to join the meeting online please let us know, and one of the team will be happy to help.
Agenda
Morning: Governance (11am – 12:50pm)
Director and Treasurer's reports
Motions
Election of Trustees
Lunch (12:50 – 1:50pm)
Afternoon: Organisational Strategy (1:50 – 4pm)
Guest speaker: China Mills
Organisational strategy workshop
Social (after 4pm) – details TBD
About China Mills
China Mills leads the Deaths by Welfare project at Healing Justice Ldn – researching welfare state violence alongside those most impacted. She is committed to research practice that cultivates and restores dignity, belonging, safety, and that is abolitionist – in community with those harmed by state violence. She has published widely on state, and corporate, violence, structural oppression, suicide and mental health, and is the author of Decolonising Global Mental Health (published by Routledge). She is also a member of the Poverty, Power, and Stigma design team at the Joseph Rowntree Foundation, working alongside people with lived experience of poverty.