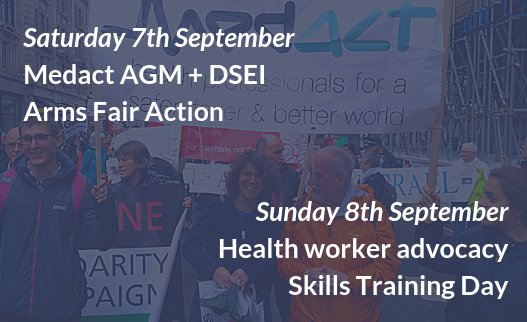 Medact's 2019 Annual General Meeting will take place in London on Saturday 7th September.
The AGM is a chance to come together to review the work we've done together over the past year, to meet with other members, staff and the Medact Board, to propose motions on Medact's governance and to elect new Trustees.
In addition to the AGM, we are planning exciting activities for both the Saturday and Sunday to make a full weekend of Medact
AGM + DSEI Action – Saturday 7th September – 11.30 – 5pm (approx.)
On the Saturday, the business part of the AGM will be followed by an opportunity for attendees to take part in a family-friendly action aimed at the Defence and Security Equipment International (DSEI) arms fair taking place in London the following week. A preparatory talk will ensure everyone is ready to take part, as well as providing some context for Medact's work on the health impacts of the arms trade and the wider medical peace movement.
AGM Papers are now available to download as follows:
Training Day – Sunday 8th September – 9.30 – 4:30pm
On the Sunday we will be hosting a training day for members to get support with the skills, connections and resources you need to effectively advocate for change on the issues you're passionate about. The main focus of this training day will be on speaking to power. Through a series of exercises we will learn tips and techniques for speaking to decision makers about different campaign issues – thinking about how might we change our language and tactics for engaging local politicians as well as the decision makers who hold the power in our hospital trusts, and other places of work. As part of this you will gain a wider understanding of how Medact campaigns for health equality, how you can take part in this work and what different tactics we can utilise alongside speaking to decision makers to push for the change we want to see.
We will be based at the Medact Office in The Grayston Centre, 28 Charles Square, London N1 6HT on both days. Lunch will be provided – but please RSVP below so we know numbers for this!
AGM Papers