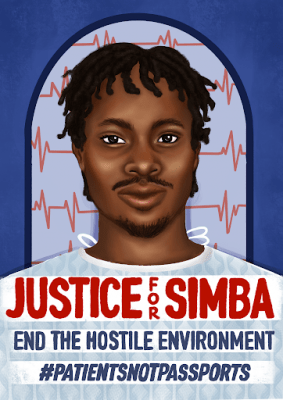 On Monday 6th September, Medact Sheffield invites you to Access to Healthcare in the Hostile Environment, a webinar exploring how hostile environment immigration policies in the NHS are deterring migrants from accessing the care they need.
We're honoured to be joined by Simba Mujakachi, as we build towards Simba's Carnival of Resistance to the Hostile Environment where we'll march with the Justice for Simba campaign to deliver his 67,000 signature petition to the Royal Hallamshire Hospital.
In this webinar we'll hear from Simba and his father Victor about their experiences of being on the receiving end of inhumane NHS charging policies, Dr Rizwana Lala will speak about the public health impacts of the Hostile Environment, and together we'll discuss how you get get involved with the Patients Not Passports campaign both locally and nationally.
Sign up, and we'll see you there!
Medact Sheffield
Speakers
Simba, who came to the UK as a teenager in 2004 – was sent a bill for more than £93,000 after he suffered a stroke and spent 2 weeks in a coma, because of his immigration status. Now he is calling on everyone to oppose migrant charging in the NHS and call for an end to the hostile environment immigration policies. He speaks of his personal experience facing the hostile environment and campaigning against it.
Victor, Simba's father and long-time Sheffield activist has worked with ASSIST, Voice for the Voiceless and South Yorkshire Migration and Asylum Action group (SYMAAG). He speaks passionately about his experience of the hostile environment and local campaigns he has been a part of.
Rizwana is a dentist, public health consultant and mum here in Sheffield.