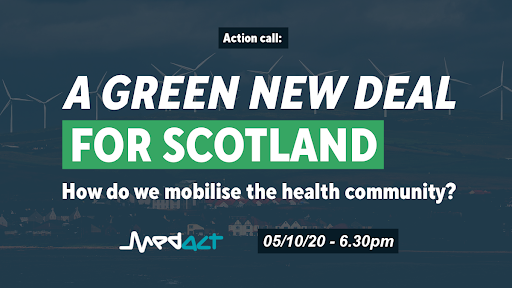 At the start of September, Nichola Sturgeon sparked excitement when she announced proposals to introduce a green jobs guarantee. However, despite the rhetoric, the Scottish government is yet to fully commit with concrete details of what this guarantee will mean.
As we build back from Covid-19, we have the chance to create a fairer and greener society that prioritises health and wellbeing.
In the run up to next year's COP26 in Glasgow, Scotland has the opportunity to set an example to the world by investing in a transformative Green New Deal.
As health workers and students, we have a vital role to play in putting pressure on Holyrood to bring about the changes we need to safeguard public health and end the climate crisis.
Join us for this interactive session as we begin creating a plan to mobilise the health community in Scotland for a Green New Deal.