Happy NHS Sustainability Day!  A national day of action across the health sector to highlight the important role of sustainability in health service delivery.
Hospital environments that promote food which is both healthy and sustainable are absolutely key to the development of a more sustainable NHS. An NHS that protects and promotes immediate health but also the health of the planet, on which human health relies.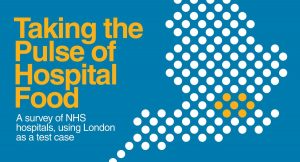 To mark NHS Sustainability Day and highlight the important role of hospital food, Campaign for Better Hospital Food have published their new report 'Taking the Pulse of Hospital Food'
This report, supported by Medact, shares the results of a detailed survey of hospital food standards in the acute NHS hospitals in London.
The survey showed that whilst there is some fantastic work going on that should be celebrated, many hospitals are still falling short when it comes to serving food that is healthy and sustainable for all those who access it.
Some key findings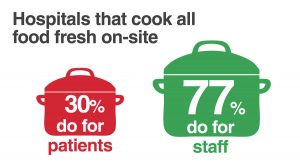 Whilst 77% of hospitals cook all food fresh on-site for staff, this falls to only 30% for patients. However, most hospitals are freshly preparing at least some patient food on-site.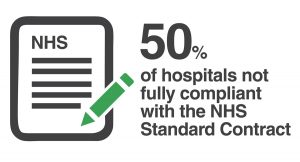 Only 50% of hospitals surveyed are currently meeting all five hospital food standards required in the NHS Standard Contract for Hospitals.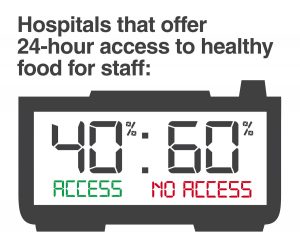 Only 40% of hospitals were offering 24-hour access to healthy food for staff when this survey closed in December 2016. This is a key requirement of the 2016/17 CQUIN*, that should be met by the end of March 2017.
*a national scheme through which commissioners can hold back a proportion of the hospitals income
Hospitals role in promoting more plant-based nutrition
It is now well recognised that there is an urgent need to move to more plant-based diets, for both health and environmental sustainability. The overuse of antibiotics in some farming systems (linked to antibiotic resistance in humans) also make a strong argument to change how livestock are produced and consumed.
It is therefore promising to see from this survey that a small number of hospitals have adopted a "less and better meat" policy (three hospitals for staff food and three for patient's food), a very important first step, and a sign of the direction that hospitals need to move in if they are to promote truly healthy and sustainable food.
What were the key policy asks of the report?
Hospital food standards should be set in law and then independently monitored and enforced
To take action to improve patient food quality this hospital food standards legislation should include menu requirements and minimum standards for ingredients to promote fresh, healthy and appetising cooking, higher animal welfare, and ethical and sustainable ingredients
To take action on the retail environment this hospital food standards legislation should include and make mandatory; the NHS England CQUIN 2017-2019 Indicator 1b: Healthy food for NHS staff, visitors and patients1, as well as the SC19 Food Standards2 and the five hospital food standards3 in the NHS Standard Contract
In addition, the hospital food standards legislation should include minimum legal standards on the food sold in vending machines on hospital premises akin to the Healthy Living Award Plus, already mandatory in Scotland
What is Medact doing?
Hospital food is shaped and influenced by a number of complex policies, as well as tightening of budgets, private influences, and many other factors. Medact is completing a situational analysis that maps out these many influences, in order to identify why many hospitals are still falling short, and how we can best support and drive further improvements in hospital food.
We want to hear from you
Are you interested in improving the health and sustainability of your hospital food?
Or do you think that there are some great initiatives already going on in your hospital that you would like to share?
Please get in contact with Jo Head [email protected]