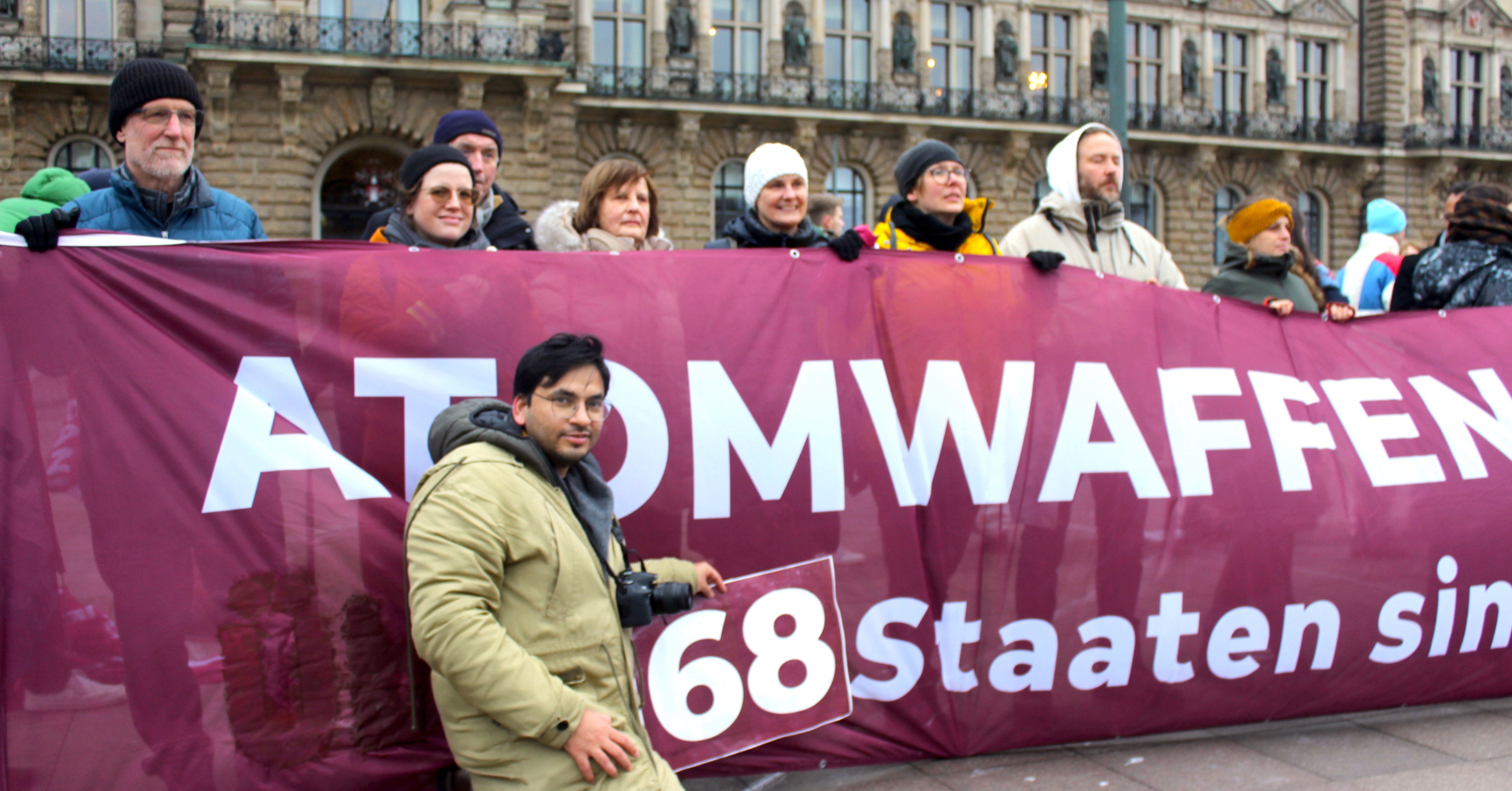 In the midst of war and pandemic, physicians across Europe gathered together in Hamburg over 20–22 January 2023 to discuss nuclear disarmament and the prevention of nuclear war. They arrived at the Hamburg declaration: a call for peace in Europe. Prominent speakers, medical students and European IPPNW leaders engaged in interactive skill sharing on strategic planning, policy-making, and good governance – and held a demonstration at the City Hall to raise local public awareness of the humanitarian catastrophe of war.
Re-elected IPPNW European Vice presidents Angelika Clausen (Germany) and Marianne Begemann (Netherlands) expressed their concerns about the ongoing war in Europe, and reaffirmed the decades-long commitment within the global IPPNW movement to work together as physicians and health workers across all borders to prevent nuclear war and its consequences on the health of people of the world.
Prominent speakers Alexander Kmentt (Austrian Foreign Ministry), Tarja Cronberg (Stockholm International Peace Research Institute), Linda Petz-Gunter (Beyond Nuclear) and Moritz Kütt (Institute for Peace Research and Security Policy) shared their ideas and experiences on nuclear disarmament, dangers of nuclear power in conflict zone, ways of nuclear risk reduction and proliferation of nuclear sharing and nuclear weapons free zone.
We were treated to a speech by Carlos Umana, IPPNW Co-President, on 'Cities are Not Targets', as well as as speech by the Deputy Mayor of Hamburg and live music, at an event in the ruins of the church of Saint Nicholas, which is today a memorial museum of the consequences of the bombings during World War II.
Dirk Hoogenkamp (Netherlands) and Sarah Kuiter (Germany), the European IPPNW students representative, alongside the Hamburg student group were involved in sessions for students where they shared their experiences of activism, and organising the demonstration at Hamburg City Hall. The students agreed to start a European summer school project at the location of the former Nazi concentration camp Stutthof near Gdansk, near the Baltic Sea – chosen by our Polish affiliate organisation.
At a meeting for the IPPNW students movement on past, present, and future challenges, I delivered a speech discussed the revival and recruitment of the IPPNW students movement, exploring ideas around creating the roles of IPPNW Junior Doctor and Climate Representatives, and for an IPPNW mobile application that could facilitate new and smart ways of campaigning.
On 22nd January, we observed the second anniversary of the UN Treaty on the Prohibition of Nuclear Weapons (TPNW) coming into force with our demonstration at Hamburg City Hall, with the intention of helping to raise awareness among the public that war in Ukraine increases the risk of nuclear weapons being used. We did this through leafleting, delivering public speeches, and doing interviews with the press – all around a giant IPPNW banner reading "Atomwaffen sind verboten! 68 staten sind dabei. Deutschland fehlt." ("Nuclear weapons are forbidden! 68 states are there. Germany is missing.")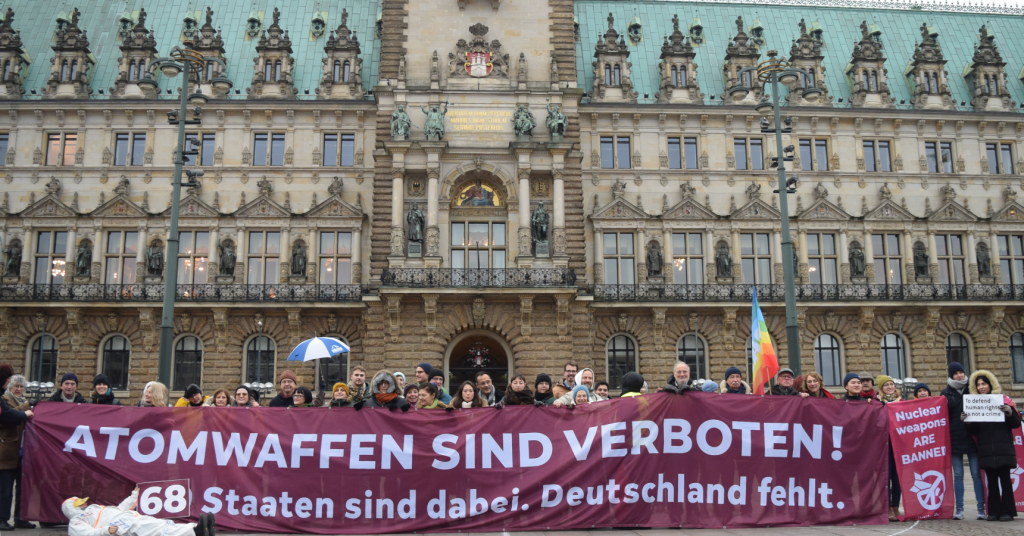 European IPPNW leaders and participants had fruitful discussions and agreed that political leaders must declare that they will not use nuclear weapons in the war – No first use of Nuclear weapons! – and that they will seek to bring military action to an end without delay. In addition they highlighted that no leader has the moral right to use nuclear weapons under any circumstances.
European countries should follow the progressive example of those states by signing and ratifying the TPNW without further delay.
The meeting concluded with the Hamburg Declaration, calling for peace in Europe:
We stand together with all the European people who share our firm belief that military action on our continent must come to an end without delay, and that diplomatic solutions must be sought and accomplished. This must be supported by the implementation of international common security structures.
The declaration also encourages health workers to join our global IPPNW movement in our efforts to bring about nuclear disarmament.
Also at the Hamburg meeting, European IPPNW affiliates agreed to have a strong presence at the long awaited XXIII IPPNW World Congress, themed 'Disarmament, Climate crisis and Health', which is scheduled to take place 26–30 April 2023 at the Travelers Beach Resort in Mombasa, Kenya. The congress will be preceded by a 5-day student bike tour from Nairobi to Mombasa!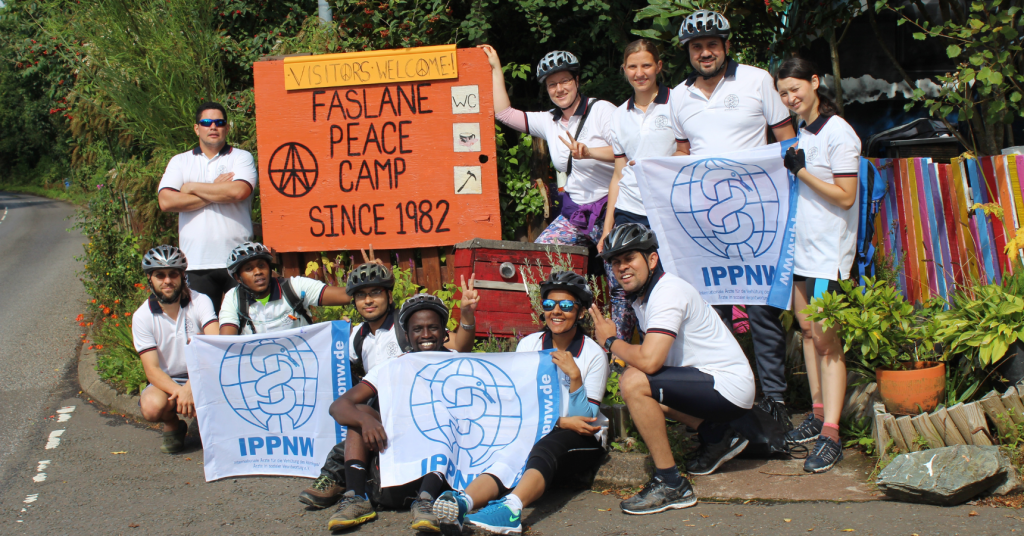 Throughout the event, sessions will highlight links between the health consequences of the climate crisis and nuclear weapons, especially as they relate to Africa, and within the context of other world events. Plenary and workshop topics will include the humanitarian consequences of nuclear weapons, nuclear famine, nuclear brinkmanship during war, climate and conflict, energy choices, and the Treaty to Prohibit Nuclear Weapons.
The Congress is being held hybridly, with access to many sessions virtually! You can register and join IPPNW for a fantastic program, with a range of brilliant African and international speakers. Please get in touch with Medact if you're interested in attending the conference online or in-person but would require funding to do so – just email [email protected].