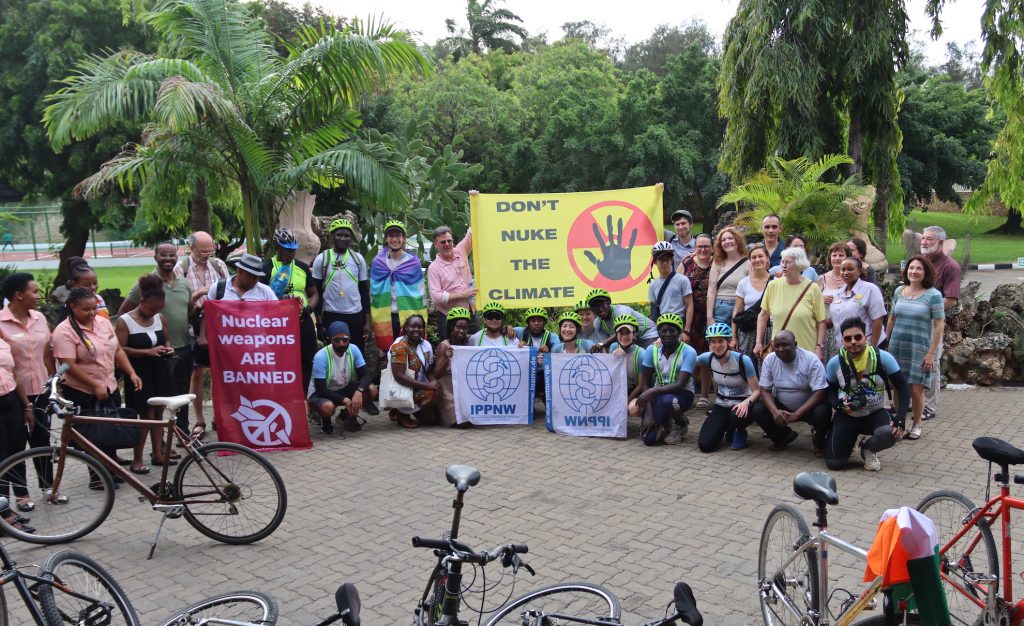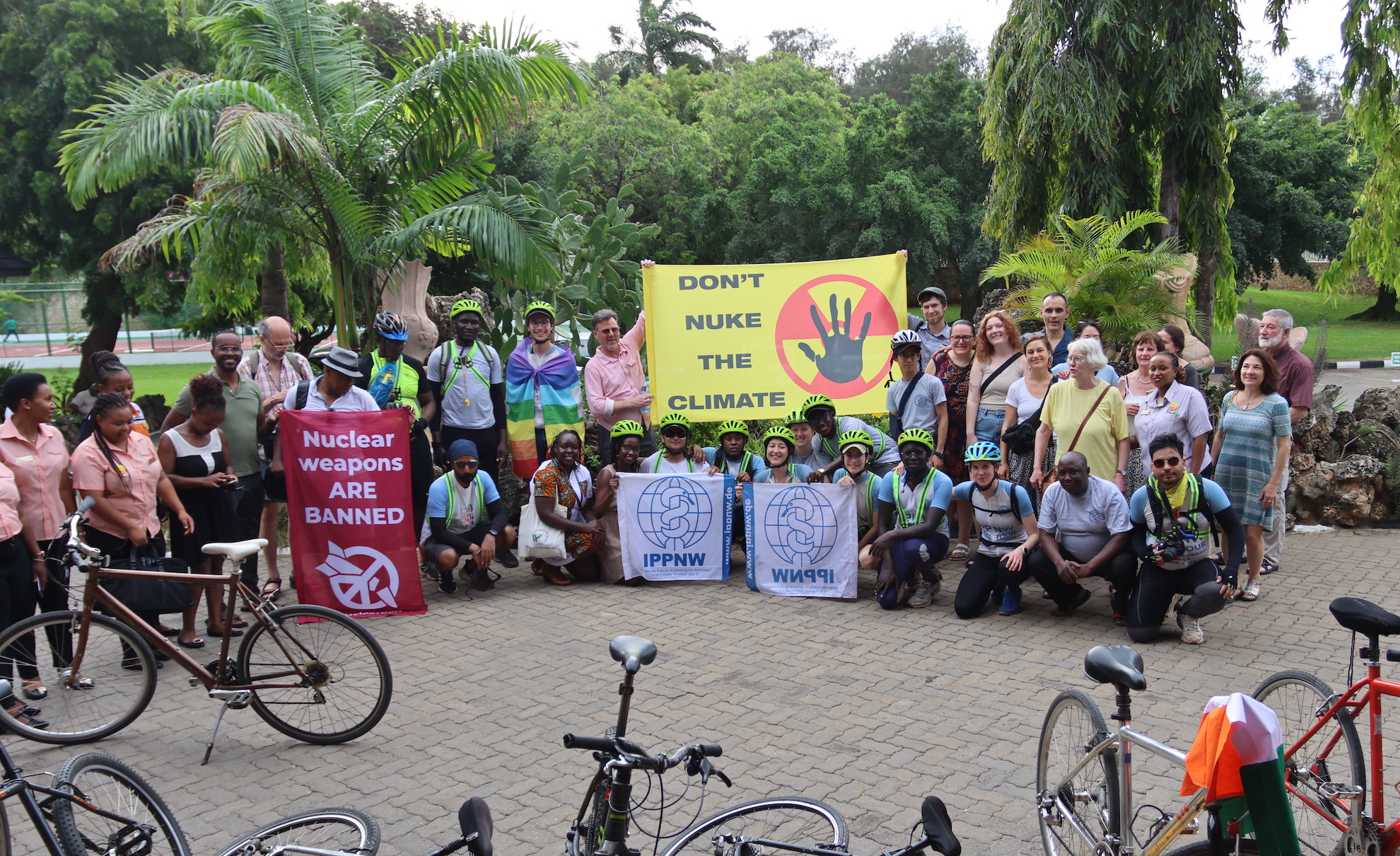 I was one of 15 participants from nine different countries who pedalled 500 km from Nairobi to Mombasa in five days from 20th April 2023, rallying young doctors and medical students to raise awareness and promote advocacy on disarmament, climate justice and health. During this bike tour, cyclists interacted with local communities, politicians and students, and enjoyed breathtaking views of scenery and wildlife. On our journey, we learned about each other's cultures, shared knowledge, made friends for life, and enlightened young physicians and medical students on IPPNW's mission to prevent armed conflict and call for a safer, happier world.
We planned and managed the logistics of our tour with the support of the Kenya Association of Physicians and Medical Workers for Social Responsibility, IPPNW's Kenyan affiliate. All participants arrived on 18th April to acclimatise to the soil and air of Nairobi before getting started on our tour.
Day 1
We started our ride at 4am. On the first day (Nairobi to Emali – 122 km) at our destination in Emali, we engaged with the Municipal Manager of Makueni County and had fruitful conversations on disarmament, climate justice and health. He even invited us to a tree plantation. We were greeted by locals and students as we passed through beautiful eastern Kenya.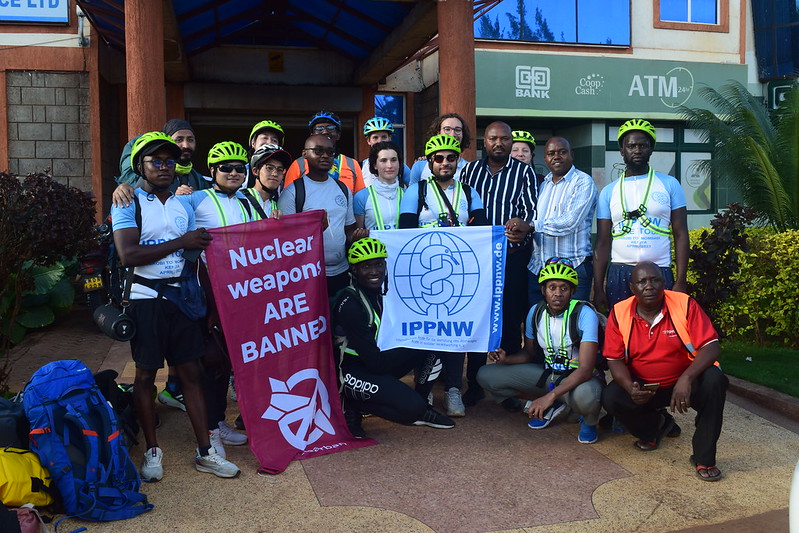 Day 2
On the second day (Emali to Mitito Andei – 109 km), we left Emali in the early morning and reached the halfway point, Makindu, at 9am—far more pleasant than the first day. We were welcomed at Gurdwara Makindu Sahib (a Sikh temple established in 1898) where we talked with a religious leader about disarmament, climate justice and health, and were served an unlimited free, hot, delicious, vegetarian breakfast. Later, we pedalled east, where we enjoyed local tropical fruits and watermelon and engaged more with locals and students. Some local bike riders even joined us.
Day 3
The next day's ride (Mitito Andei to Voi – 100 km) was the most memorable of our tour so far. We began at 5am to have better visibility while passing Tsavo National Park. We were fortunate to encounter many elephants, and zebras raced by our side. We were also welcomed by lots of monkeys who shared our breakfast, and frequently had to stop to allow wild animals to cross the road. We were allowed to enter Tsavo National Park and spent an hour there, learning its history and getting souvenirs. A local shopkeeper saved us when we were lost in the park, and helped us to have lunch and much needed tea at her place. She advised us to take precautions as she has encountered lions, leopards, elephants and hyenas in her backyard.
Day 4
Similarly, our Voi to Samburu ride (96 km) was filled with interactive sessions between participants in Kwale county and we saw many monkeys and local tribes with striking hair, clothing and tattoos living alongside the remote roads. Many tribes' children were excited to see us and ran after our bikes.
We left at 5am so that we could avoid the hot, humid air. Along the route, monkeys crossed the road and more children chased our bikes in a friendly manner. During lunch, we had interactive sessions on mental health amongst health professionals, with many sharing their personal experiences and mental health related issues in their countries.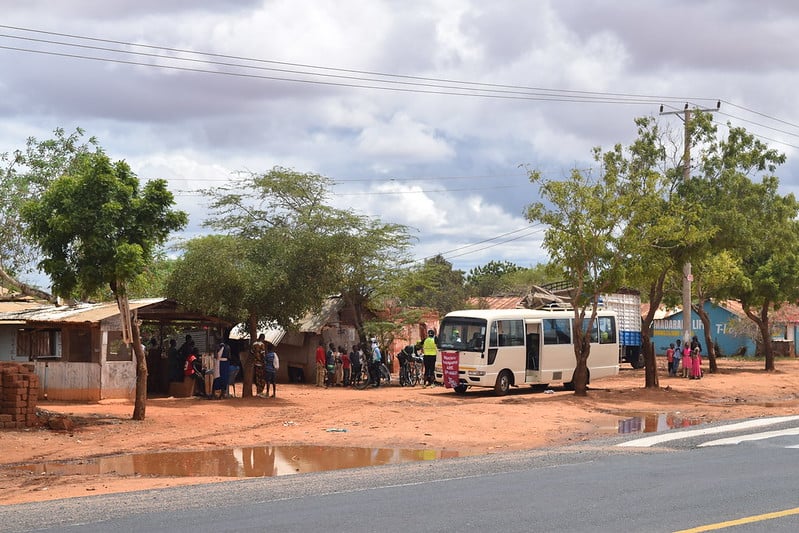 Day 5
The second-to-last day (Samburu to Mombasa – 66 km) was quite a bit easier, but challenging to ride in semi-urban and urban areas crowded with big container lorries, tuk-tuks and Matatu (minibus-taxis). We began at 7am with mango juice, after having properly rested, and reached Mombasa with occasional mini breaks and a watermelon party in the scorching sun. In the evening, we went to Jesus Fort (built by the Portuguese in the 15th century) and had a lovely Swahili dinner.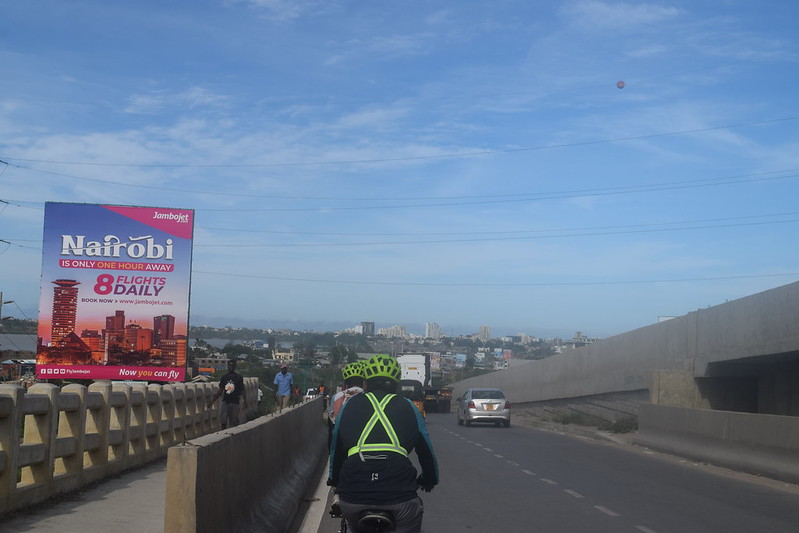 Day 6
In Mombasa the bike ride was more relaxing but very emotional as the tour came to an end. We treated ourselves to some relaxation, swimming and doing acrobatics in a hotel swimming pool. At noon, we rode towards Bamburi Haller Park where we learnt about creative wildlife conservation and the effects of the climate crisis. We met crocodiles, reptiles (including a poisonous black mamba), very old turtles, fish, many species of butterflies, hippopotamuses, and fed the giraffes. We loved being in nature and learning about modern ways of protecting species in a challenging climate.
At Travellers Beach, the hotel of the IPPNW World Congress, we were astonished to see a welcome party with traditional dancing. Despite our fatigue, we were able to move our hips and coordinate dance moves with other IPPNW members and the local dancers, and we enjoyed much-needed tropical juice and fruits.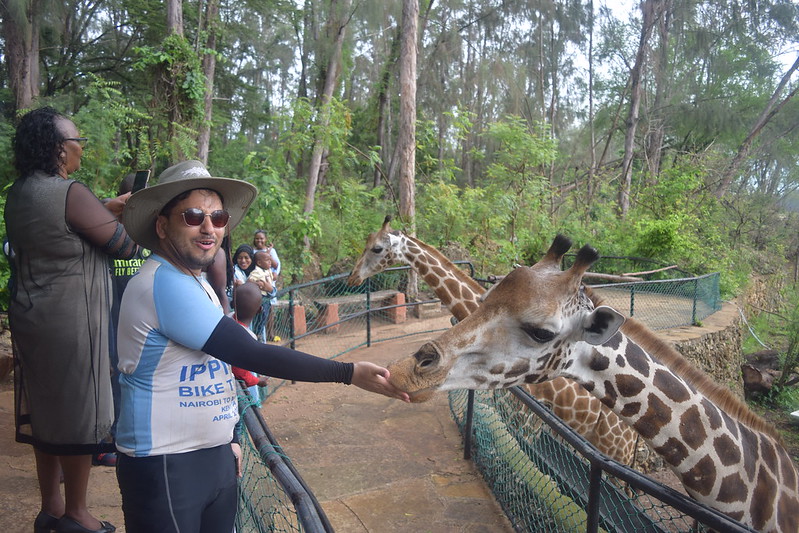 Finally, we disassembled the bikes and packed them on the bus for transportation to Nairobi. We raised funds for the bus driver for his support throughout the journey and donated bike helmets, hi-vis belts, lights and other accessories to Kenyan students to be used in the future.
Overall, the bike tour preceding the 23rd IPPNW World Congress was a tremendous opportunity for international participants to learn about and explore local culture and traditions, and an effective way of campaigning for disarmament and action on the climate crisis and health by engaging with local politicians, religious leaders and community members. It was also an excellent opportunity for young physicians and students to hold interactive meetings and talks with peers from around the world and learn about the activities of global IPPNW affiliates.
The Congress
Following our tour, IPPNW's 23rd World Congress began, culminating in the Mombasa declaration and an appeal for peace and prevention of nuclear war. With more than 40 countries and 300 people participating both virtually and in-person, throughout the congress we brought out the links between the health consequences of the climate crisis and nuclear weapons—especially as they relate to Africa, and within the context of other world events. Plenary and workshop topics included the humanitarian consequences of nuclear weapons, nuclear famine, nuclear brinkmanship during war, climate and conflict, energy choices, and the Treaty to Prohibit Nuclear Weapons.
One of my own achievements was being re-elected as youngest doctor on the IPPNW Board of Directors, which has representation from 19 countries and from every continent (except Antarctica).