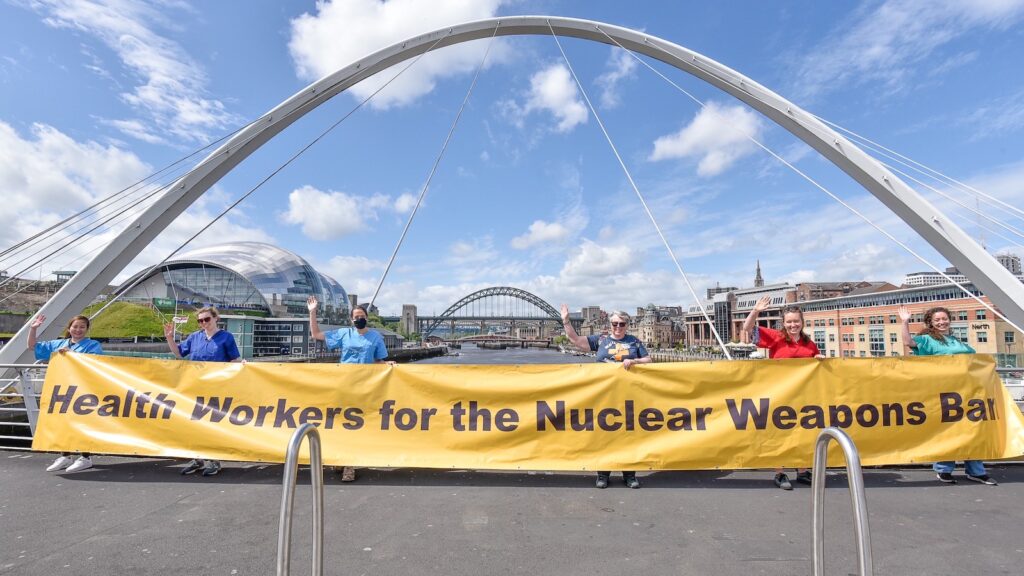 On Saturday 18th June, we, local health workers in Medact North East, dropped a banner from the Millennium Bridge in Newcastle reading "Health Workers for the Nuclear Weapons Ban".
Once again we are looking into the abyss of nuclear war. I have been working to abolish nuclear weapons since the age of 15 and in 2021, at last, we got a treaty to prohibit nuclear weapons. Now we have to ensure that the Nuclear Weapons States comply with the treaty and destroy their nuclear weapons.
We are demanding local government support for a UN Treaty that would make nuclear weapons illegal, giving them the same status as chemical and biological weapons, cluster bombs and landmines.
We were featured in local media, with a story in the Northern Echo, and a piece including a video interview with our members in Chronicle Live.
Our group of GPs, pharmacists, junior doctors, nurses, physiotherapists, public health professionals and therapists from across the North East pulled the stunt alongside letters sent to local councils and MPs calling on them to support the UN Treaty on the Prohibition of Nuclear Weapons (TPNW) through the ICAN Cities Appeal.
Despite support from individual MPs and councillors, councils in the North East have not yet officially declared their support for the ban, which came into force last year. The UK government has not signed the treaty and has declined to engage with the process.
One of our Medact North East members, Dr Anne Sweetman, said, "it is vitally important the world does not forget the horrors that nuclear weapons can inflict on innocent populations."
We are happy to lend our banner to any other Medact groups campaigning on TPNW!
Liz Waterston – Medact North East