Today, starting from 18 May, Palestinians across Palestine – including Palestinian citizens of Israel – are participating in a General Strike in an act of popular resistance in response to escalating Israeli political and military aggression. 
We stand in solidarity with people in Palestine and in the diaspora who are resisting this aggression and decades of occupation and displacement. And we call on the UK government to apply pressure on Israel to end the air strikes, and immediately impose a two-way arms embargo with Israel.
Displacement and dispossession in East Jerusalem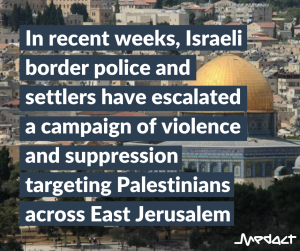 The recent escalation in violence began in early May following threats by settlers and the Israeli authorities to evict 13 families in the East Jerusalem neighbourhood of Sheikh Jarrah. 
Since 2001, Palestinian families in Sheikh Jarrah have lived with the constant threat of eviction as a result of actions taken by settler organisations that claim they are reclaiming properties owned by Jewish communities prior to 1948. However, many of these families, such as those in the Karm al-Jaouni complex, are Palestinian refugees forced out their homes in areas of West Jerusalem in 1948. Their former homes were subsequently taken over by the Israeli state under the Absentees' Property Law (1950). This means that while settler organisations such as Elad can use the Israeli courts to takeover properties allegedly formerly owned by Jewish families, Palestinians are not afforded the same right to reclaim their properties.
In recent weeks, Israeli border police and settlers have escalated a campaign of violence and suppression targeting Palestinians across East Jerusalem. This has included raids by Israeli forces on the al-Aqsa compound, the third holiest site in Islam, as worshippers were observing the month of Ramadan. Dozens were injured by rubber bullets, tear gas and sound bombs. 
Palestinian health workers and Red Crescent were, at times, prevented by Israeli police and Defence Forces from reaching those injured during this campaign of violence. 
Hundreds killed in Israel's bombing of Gaza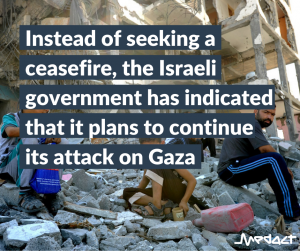 In the last few weeks, Israeli air strikes on Gaza have killed 198 people, including 58 children, and injured around 1,230 people. These attacks have caused significant damage to infrastructure as well as widespread power cuts, not only compromising the immediate wellbeing of millions of Palestinians, but also undermining the fight to contain the spread of COVID-19 in Gaza.
Israel's blockade of Gaza, which has been in place since June 2007, has been the root cause of Palestinians being unable to access healthcare. As Medical Aid for Palestinians and Physicians for Human Rights – Israel (PHRI) have reported, the blockade has both greatly limited resources available within Gaza and prevented Palestinians from being able to leave Gaza to seek treatment elsewhere, which has resulted in the deaths of numerous patients in recent years.
Though Israeli forces have claimed to be targeting only Hamas infrastructure, it is clear that the continued air strikes on one of the most densely populated places in the world will only result in more civilian casualties. Instead of seeking a ceasefire, the Israeli government has indicated that it plans to continue its attack on Gaza.
To add to the violence against health workers, there are also reports that health officials in Gaza have been killed in Israeli air strikes, along with family members. These include Gaza's top neurologist, Dr Mouin Al-Aloul, the head of COVID-19 response at Gaza's largest hospital, Dr Ayman Abu Al-Ouf, and psychologist and social worker, Rajaa Abu Al-Ouf. 
Apartheid and persecution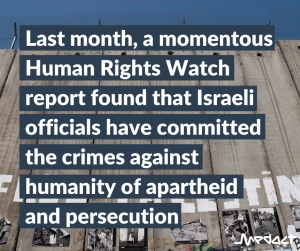 Last month, a momentous Human Rights Watch report found that Israeli officials have committed the crimes against humanity of apartheid and persecution. This is, the report states, specifically through policies that seek to maintain the domination of Jewish Israelis over Palestinians, and to discriminate against Palestinians in the Occupied Territories and in Israel.
The persecution and apartheid is clearly demonstrated by the Israeli police's violent crackdown on Palestinians who have been protesting over the last week in towns and cities such as Lydda, Akka and Haifa. In Lydda, for instance, Israeli authorities evacuated Jewish Israeli residents from the town and called a state of emergency, imposing a military enforced curfew on the remaining Palestinian population. And the second-class citizenship that Palestinians in Israel experience has been illustrated through the ongoing instances of Israeli violence, inflicted by both Israeli police and ordinary citizens with the protection of the police.
"Two populations living under one regime, heading in opposite directions…"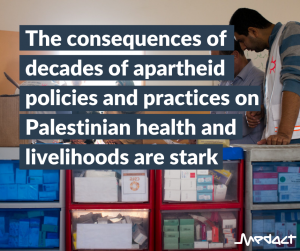 The consequences of decades of apartheid policies and practices on Palestinian health and livelihoods are stark. As reported recently in the Lancet, even before the recent air strikes, the WHO risk assessment for Gaza was 'very high', with COVID-19 infections there accounting for two-thirds of all cases in the Occupied Palestinian Territories. Whereas nearly 60% of Israelis have now received at least the first dose of the vaccine, only 3% of Palestinians have received their first dose. Palestinians in the West Bank and Gaza have also suffered a recent rise in infection rates, with little public health capacity or resource to be able to respond.
Last year, we joined a number of Palestinian, Israeli and international organisations in calling on Israel to respect its international legal obligation to take sufficient measures to combat the spread of contagious diseases and epidemics, and to support the functioning of Gaza's health system. This call has been ignored.
However, this 'vaccine apartheid' is just one symptom of deep-seated health inequalities. As Yara Asi describes in an article for the Guardian: "The entrenchment of the occupation and the length of the blockade affect every social determinant of health, including increased psychological trauma, environmental health risks, food and water insecurity, and insufficient access to quality health care facilities. Covid-19 has made these often overlooked pre-existing disparities unavoidable."
As an organisation campaigning for a world in which everyone is able to access their human right to health, we call on the UK government to recognise its historic responsibility for the current conditions faced by the Palestinian people. Specifically, we demand that:
the UK government does all it can to apply pressure on Israel to immediately halt its air strikes on Gaza, including implementing an immediate military embargo;

the UK government lobbies Israel to end its siege of Gaza and dismantle the Apartheid wall that it has constructed both in Gaza and in the West Bank;

the UK government must work to ensure that Israel recognises the inalienable right of return of Palestinian refugees now entering their 74th year of exile, as well as the right of all Palestinians to live equal rights and dignity;

the Israeli government respects its international legal obligations to provide the Occupied Palestinian Territories (oPt) with sufficient coronavirus vaccines of an equal standard to those used within Israel, and to ensure smooth entry of vaccines and medical equipment to the oPt.
People all over the UK are taking action in solidarity with the Palestinian people, demanding that the UK pushes Israel to end the violence, and demanding that the UK ends its own complicity.
We are joining the National Demonstration for Palestine this Saturday, 22nd May, meeting at Victoria Embankment, London. March with us! Get in touch if you can join us there.