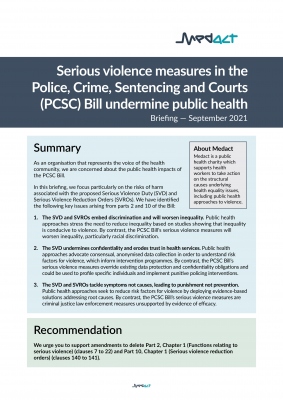 As an organisation that represents the voice of the health community, we are concerned about the public health impacts of the PCSC Bill.
In this briefing, we focus particularly on the risks of harm associated with the proposed Serious Violence Duty (SVD) and Serious Violence Reduction Orders (SVROs).
We have identified the following key issues arising from parts 2 and 10 of the Bill:
The SVD and SVROs embed discrimination and will worsen inequality.
The SVD undermines confidentiality and erodes trust in health services.
The SVD and SVROs tackle symptoms not causes, leading to punishment not prevention.
We urge parliamentarians to support amendments deleting Part 2, Chapter 1 (Functions relating to
serious violence) (clauses 7 to 22) and Part 10, Chapter 1 (Serious violence reduction orders) (clauses 140 to 141).