Note: Applications for these positions are now CLOSED!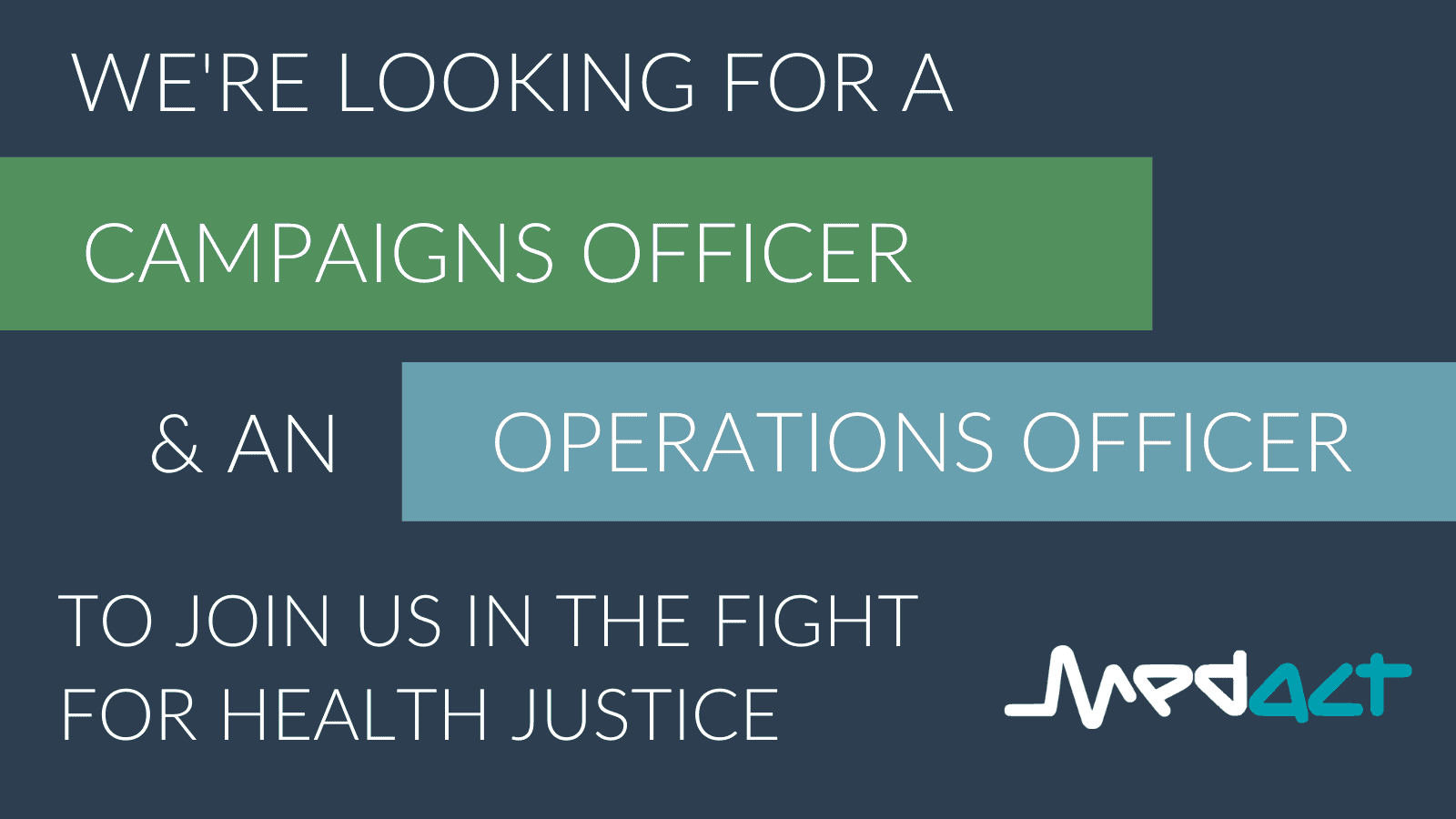 Medact is recruiting for two positions on our staff team, an Operations Officer and a Campaigns Officer! Sadly, this month we said goodbye to our previous Campaigns Officer, Aiyan. And we are recruiting someone to a newly-created role helping ensure the healthy operations of our systems and office.
The Campaigns Officer will support our work campaigning for a world where everyone can access their human right to health. Focusing on two of our four campaign areas and working closely with our Campaign and Programme Leads, the person who takes this on will carry out the policy-thinking, communicating and organising needed to drive campaigns, owning smaller pieces of work while contributing to the programme and Medact-wide projects.
Find out more about the Campaigns Officer role
The Operations Officer is a new role, and the person fulfilling it will work alongside Operations Manager Benjamin Walpole to make sure our systems run smoothly. This person will work across the whole organisation, developing and maintaining the essential infrastructure that supports our work organising the health community to fight for justice, helping with technology, logistics and office management responsibilities.
Find out more about the Operations Officer role
Medact aims to be an inclusive and supportive employer. We know that people from certain communities experience oppression which leads to under-representation in the NGO sector, and we're committed to doing what we can to correct this. We're keen to receive applications from people from marginalised communities, and we offer assistance applying, which includes reimbursing childcare costs and/or lost wages for shortlisted candidates. You can also chat with someone from the team – who won't be a part of the recruitment process – for advice about applying.
If you have any questions at all about the application process, please get in touch on [email protected].