As we begin 2021 suffering a devastating new wave of the pandemic, and approach a full 12 months living under its shadow, it can be hard to think clearly about the year ahead.
The pandemic has taken a terrible toll. In the UK, nearly 100,000 lives have now been lost. Distancing measures have led to social isolation and lost livelihoods. Those working in frontline services have faced unprecedented challenges to do their jobs alongside the ever-present risk of exposure to the virus.
Health workers have been at the centre of the crisis ─ having been cast as heroes, and clapped from the doorsteps, they now face the burden of an intensifying crisis in NHS hospitals around the country.
At Medact we have been all too conscious of the unreasonable demands placed on health workers since the pandemic began, and hesitant to ask any more of our members and supporters in the midst of it all. This has at times made it difficult to see the way forward.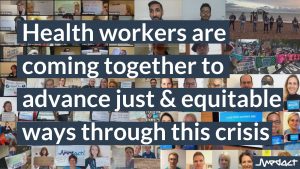 But against this backdrop it has been incredibly humbling for us to witness how our members and supporters have continued to come together to fight for health equity and justice.
This resolve and fortitude has been especially moving considering how important we see our work as being right now. Despite what some might say about us "all being in it together", at every turn we have seen the impacts of the pandemic land disproportionately upon communities of colour, the working class, women, migrants, those with disabilities and pre-existing health conditions and other marginalised groups. Recognising this makes organising around health equity ever more relevant in 2021.
The pandemic has also brought into ever clearer focus our belief in the crucial role for health workers in tackling many of the biggest issues society faces. Now, from the centre of this crisis, health workers have an undeniable platform and mandate to speak on economic injustice, on the climate emergency, on international security and human rights.
This is why we are so hugely grateful to all those who have contributed in so many different ways to our work over the last year ─ members new and old, those who have got involved in our campaigns, or contributed to our research, or most recently a special thanks to all those who have donated to our winter appeal.
And this is why we have high hopes for our work together in the coming year, and hope you will be able to join us in some way. This might be adding your voice to our calls for greater social protections in response to the pandemic; joining our new Health for a Green New Deal campaign to share our vision of a recovery centring the health of people and planet; fighting for universal healthcare access as part of Patients Not Passports; or helping to rethink what makes us safe in the 21st century ─ advocating for a renewed focus on people's health and livelihoods in place of racist counter-extremism policies, government-subsidised arms industries and illegal nuclear weapons. Ultimately, we will be led by you!
If you haven't already, there's still time to make a contribution to our winter appeal:
Donate to support our work in 2021
The very best way to support our work is by signing up to be a Medact member:
Find out more about membership
If you've already done both (?), will you help us spread the word?
Share on Whatsapp Share on Facebook Share on Twitter Share by email