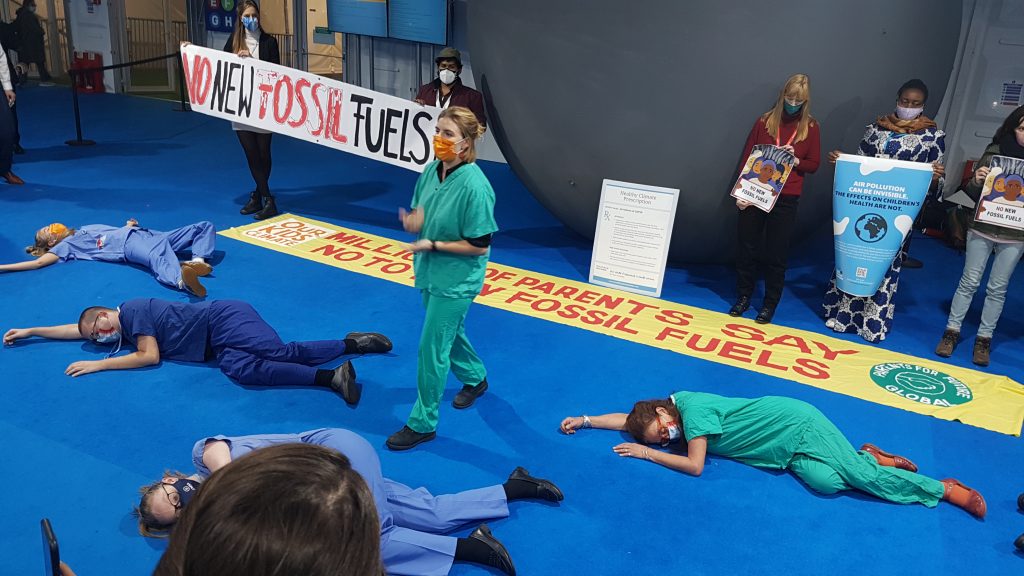 As I approached the SECC, the home for COP26, the queues were not short but neither were tempers. A mass of patient people, cameras and kit, people from all over the world, some in traditional costumes and very colourful, many grey and bland, all masked, and all very close together. There were circles at a metre distance on the ground advocating "keeping your distance". The message was futile and there was an average of five pairs of feet round every one.
On entry, a vast, overwhelming space with adverts, display boards and screens in profusion. The circular "Action Space" bathed in blue light and with a huge blue and white globe suspended in the middle of a ring of stages, cameras, auditoria and media venues, including COP TV. Along a long and draughty tent corridor to "Area D", an even vaster space occupied by "pavilions" and more screens and energy-guzzling display boards. In neon, "Hurry up please it's time" and, on a huge screen billboard, "We can do this if we act now". 
The WHO pavilion offered friendly faces and an interesting programme, each day devoted to a different aspect of health and climate, for instance, food, transport. It was heartening to see so many young people engaged and learning and questioning. Our "prescriptions for the climate crisis" were well received. It was fascinating, and a tad sad, that the WHO pavilion, rich as its programme was, was the only one concerned with health. But clearly international networks linking climate and health are growing. As one of the speakers quoted:
"If you want to walk fast, walk alone. If you want to walk far, walk together."
A presentation by Sarah Quanhnon of Greener NHS and Net Zero NHS showed just how high aspirations are for the NHS in terms of reducing its carbon footprint. The debate, of course, is whether net zero requires clever accounting techniques and real zero is what we should be striving for.
Just across the corridor even more interesting conversations were to be had. The Saudi Arabian pavilion was large and glitzy with a screen size that any provincial cinema would have been proud of. The images were of sunny Saudi, fancy cars and very advanced carbon capture technology, the "Circular Carbon Economy". I enquired of a Saudi gentleman why, when Saudi was the world's largest oil producer, they were here at talks concerned with the effects of fossil fuels on climate change. "Ah, no", he said, "The problem is not fossil fuels, it's emissions, and we have the carbon capture technology to deal with emissions" And what about all those poorer countries who are suffering most from climate change and who can't afford this technology? "Which countries?". India, and countries in Africa… "Oh, them…", he said. 
Which sort of summed it up. As was clear in a subsequent panel discussion chaired by a Saudi princess and attended on Zoom by an enthusiastic, unappealing American businessman, the main motive was profit and, as Mr Businessman said, "This technology offers the Kingdom an amazing investment opportunity".
Commercial interests were obvious throughout the venues. A hundred cheerful young people had been paid to wear yellow tee-shirts proclaiming "Go carbon neutral with nuclear", echoing a presentation in a large auditorium by a be-suited French nuclear company senior executive who, in response to his interviewer quoting concerns about nuclear safety, simply kept repeating, "The facts are the facts". 
One inspiring session I attended was a press conference of young people in Civic Society, including people from the Global South, working in NGOs and organisations trying to alert world leaders to the urgency of the crisis. As the Prime Minister of Barbados had said, "1.5 degrees would keep us alive. 2 degrees is a death sentence".
Greenwash? With the adverts for how Rolex watches and fancy cars are helping the planet, yes. With the list of sponsors including Sky, JP Morgan and other fossil fuel funders, yes. With the welcome pack including a hefty pack of Dettol wet wipes (culprits of water pollution), yes.
But heartening? Also, yes. I found it encouraging to hear in indigenous people describe their work to develop networks and solidarity with others in the same plight and to find a community voice. However, there were many serious failures which made COP inaccessible to many from the Global South due issues like late or refused visas, and a general lack of support to attend.
And then, on Friday, the Fridays for Future march. Ten thousand young people marching in solidarity and being addressed by Greta Thunberg. At the same time as the march, in the "blue zone", I joined a demonstration with a group of international students from the International Federation of Medical Students' Associations and Parents for Global Justice. With banners saying, "Fossil Fuels Kill" behind us, we "died" at the main entrance to the building and got a lot of very positive attention. 
After all the preparation, especially of Health for a Green New Deal, the march on Saturday was an amazing event. One hundred thousand people, the biggest march Glasgow has ever seen, the police said. The weather was foul but the spirit was totally uplifting and we again died, this time crossing Hope Street, the most polluted street in Scotland. Walking through George Square with people clapping us along and on to Glasgow Green, the site of so many political demonstrations in years gone by, felt empowering.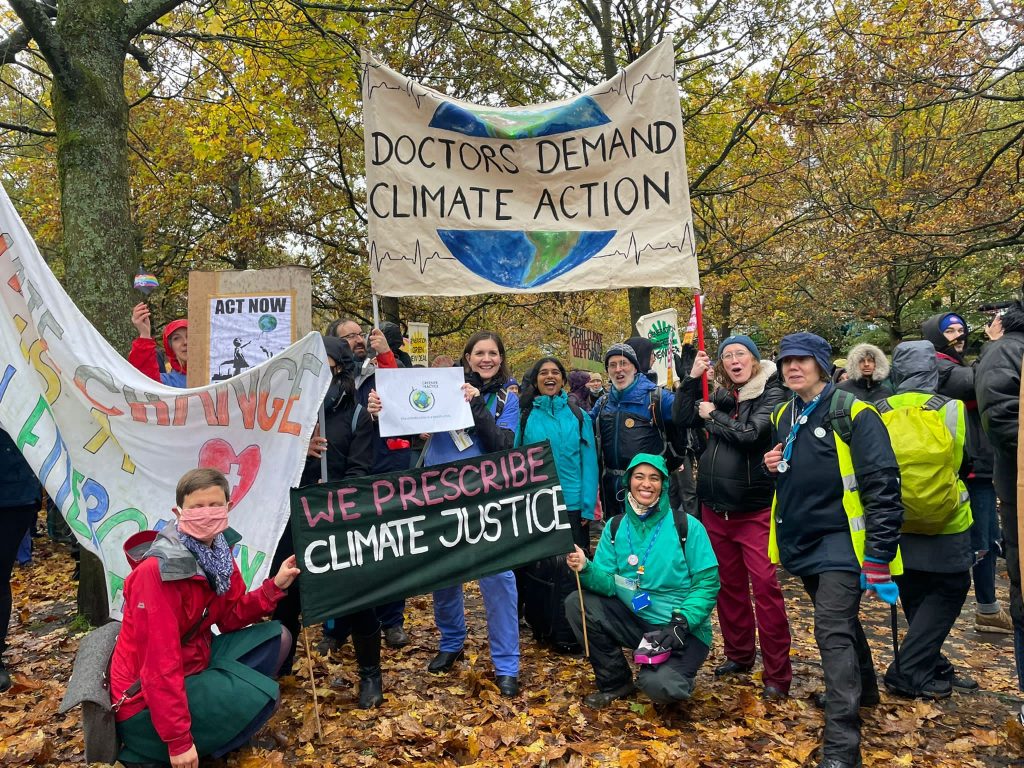 The outcome of the COP was, of course, disappointing on many levels. The last minute change from "phasing out" to "phasing down" coal felt like a betrayal for all those who had worked so hard to get the impact of coal on emissions recognised, and for those who will be most impacted by the climate change effects of burning fossil fuels. Many activists and environmental organisations expressed their sadness and anger that the task of keeping global warming below 1.5 degrees, although perhaps still just possible, has been made even more challenging. 
Undoubtedly, progress was made in Glasgow but much more could have been done and needs to be done. And it is crucial that we continue to put pressure on our governments to make the changes so urgently required.
COP26 has been, and is, an extremely significant event. Hopefully it has focussed minds and actions. But it is only a marker along the way. We have ten years, from now, from COP, to make a major difference, to turn things around. And we have to hope that we can. As Arundhati Roy says, "Another world is not only possible, she is on her way. On a quiet day I can hear her breathing."
Lesley Morrison