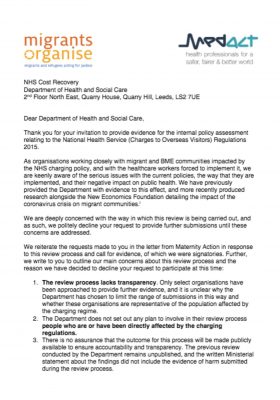 In August 2020 the Department of Health and Social Care wrote to a small number of organisations involved in challenging NHS charging policy and invited them to submit evidence for a limited internal review of the NHS Overseas Visitor Charging Regulations.
This review is very narrow in scope and will not serve to identify the depth or breadth of harm arising from NHS charging policy. Further, the DHSC has refused to commit to making the results of the review available to the public, increasing the likelihood they will repeat the failings of their previous review in 2018 which remains unpublished.
Medact and Migrants Organise have refused to participate in another review in bad faith by the DHSC, and in the letter below we set out in detail our reasons for this decision. We continue to support the call from the Academy of Medical Royal Colleges for a full and independent inquiry into the impact of NHS charging on migrant and BAME communities.
If you want to stay up to date with the Patients Not Passports campaign sign up for our mailing list.