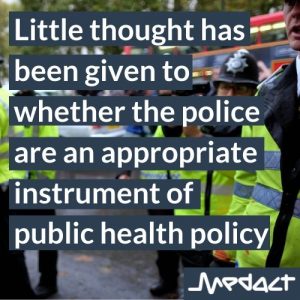 The Coronavirus Act and the Government's decision to establish emergency rules under the Public Health Act 1984 have seen a large scale expansion of police powers. While there has been much discussion about how well the British public are abiding by the physical distancing rules introduced on March 23 in response to the coronavirus outbreak in the UK, the focus on compliance has sometimes crowded out scrutiny of the law itself, and how it is being implemented.
Legislation has handed responsibility for making on the spot medical judgements to police officers, with little to no public health training or expertise. And at a time when public trust in the response is paramount, it seems little thought has been given to whether the police are an appropriate instrument of public health policy.
What is the Coronavirus Act?
Emergency rules set out under the Public Health Act 1984 establish that people must have a reasonable excuse to leave their homes, and forbid gatherings of more than two people from different households in public spaces ─ unless it is for exercise. The police are empowered to make people go home, using force if necessary;─those breaking rules can be given either a fixed penalty notice or a criminal conviction. The Coronavirus Act  gives Police Officers and Immigration Officers enforcement powers to detain anyone they have reasonable grounds to suspect is "potentially infectious".  They must consult a Public Health Officer before exercising these powers, but only "to the extent that it is practicable to do so" ─ throwing into doubt whether the medical opinion of a Public Health Officer is in fact a sufficient safeguard to arbitrary on the spot decision-making by state agents with no medical expertise.
Whilst important for the state to ensure that public health measures are adhered to, the health community must raise concerns that police and immigration officers are ill-equipped to make the medical judgements required of them under the COVID-19 Bill.
The Act in context – over-policed communities
As the police monitoring group Netpol have observed, another risk of these news powers is that the discrimination faced by communities already  from the police and immigration authorities will be compounded ─ as they may now also face criminalisation and categorisation as a threat to public health.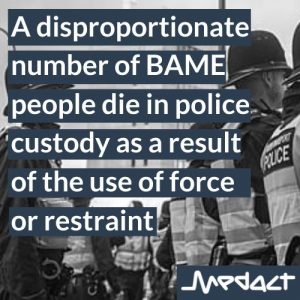 Analysis of police stop and search powers showed that people from BAME groups are twice as likely as white people to be stopped and searched, but only 14% of all stop and searches result in arrest. The Metropolitan Police's gang database comprises 78% of black people, despite only 27% of people responsible for serious youth violence in London being black. These statistics clearly indicate the extent to which law enforcement is racialised; leading to real concerns over whether the police's enforcing of social distancing measures will disproportionately target people of colour. Several allegations have already been raised against the police of the use of racial profiling in the implementation of their expanded powers, and it has recently been found that BAME people are 54% more likely to be fined under coronavirus rules than white people.
Statistics also indicate that BAME communities are disproportionately affected by state violence. Black people in Britain make up 3% of the population, but are subject to 16% of all police uses of force. Research carried out by Inquest found that a disproportionate number of BAME people die in police custody as a result of the use of force or restraint. Analysis of the police's use of tasers reveals that black people are four times more likely to be tasered than white people and, of all uses of tasers against children in 2018, over half were BAME, with the figure rising to 70% in London. In May alone, a black male was tasered by the Metropolitan Police, leaving him paralysed from the waist down and another black male was tasered in front of his young child by the Greater Manchester Police. Both incidents of police force have led to the Independent Office for Police Conduct expressing concern about the disproportionate "use of taser against black people" seen so far during the lockdown. The new powers to arrest and detain enshrined in the Coronavirus Act are therefore a justified cause of concern for communities affected by institutional racism and excessive use of police force.
Worsening pre-existing inequalities
Enforcing social distancing through policing and criminalisation, without understanding the inequalities that shape people's ability to self-isolate or distance,  will lead to further discrimination. Research from the Runnymede Trust highlights that ethnic minorities are more likely to live in overcrowded housing ─ 30% of Bangladeshi households and 5% of black African ones are overcrowded, compared to just 2% of white British homes. Empirical studies also show that BAME people are more likely to live in densely populated urban areas with little access to green space. With no signs of the government improving the housing crisis, or increasing access to green space during the crisis, a greater proportion of BAME people will be reliant on using the few public parks they have access to during the lockdown, and are at serious risk of being disproportionately criminalised when doing so.
Immigration officers are as ill-equipped as police officers to make on the spot medical decisions, and concerns exist over their ability to fairly enforce social distancing. Research carried out by the Bureau of Investigative Journalists found that one in five people stopped and questioned by immigration enforcement officers were in fact British citizens, and although the Home Office does not keep statistics on the ethnicity of people wrongly stopped, there are many reasons to believe that racial profiling is a considerable factor in their decision-making.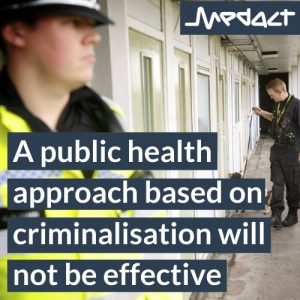 There is also the very real threat that the additional enforcement powers given to immigration officers will further deter certain communities from seeking medical treatment. Combined with the refusal of NHS England to rule out data-sharing with the Home Office, the increased visibility and legal power afforded to immigration officers could  be a barrier to people with insecure immigration status accessing medical treatment during the crisis.
During a pandemic it is vitally important that everyone in society has trust in those qualified to protect public health. Likewise, it is important that those given legal powers to make medical decisions are professionally trained to do so. Immigration officers and police officers do not command such trust or medical expertise.
We must also be mindful that these emergency powers do not become normalised and remain a part of law enforcement beyond the pandemic. Criminalisation will not be effective in the short-term, but is also no way to run a safer, fairer and better society in the long-term.
Our next blog will explore related concerns for how UK prisons and detention centres have responded to the coronavirus outbreak.