In responding to the coronavirus crisis we have witnessed unprecedented action by Governments, policy makers and communities across the world. From reductions in the number of people held in immigration detention in the UK, to a firewall protecting patient data in Ireland, and large scale regularisation of people in Portugal's immigration system. These flawed but often powerful gestures, have shown how much still needs to change in the way we approach migration.
Europe's militarised borders have thus far survived the crisis largely intact. Countries like Italy and Malta closed their ports to boats rescuing migrants lost at sea, while the leaders of the EU and Turkey continue to use the flow of migrants across their borders as a bargaining chip in their negotiations, or to garner popular support at home. On the ground hundreds of thousands of people are caught up in these policies, often forced to live in camps, not given enough food, supplies, or shelter, or are left to drown at sea.
In part 2 of our blog series Sally, Anna and Kieran – researchers in the Migrant Health Group at St George's, University of London – explore the increased risk to coronavirus faced by people living in Europe's migrant camps, and the steps Governments should be taking to ensure they are able to access the testing and treatment they need.
To keep updated about the next issues in the series sign up to Medact's Patients Not Passports mailing list.
Prioritisation of COVID-19 testing: Migrant camps must not be forgotten
by Sally Hayward, Anna Deal, Kieran Rustage 
Researchers in the Migrant Health Group, part of the Institute of Infection and Immunity at St George's, University of London.
From an early stage in the COVID-19 pandemic, the World Health Organization's message has been clear: test, test, test. However, with many European countries unable to scale up diagnostic capacity fast enough to test and trace every suspected case, the world has watched as country after country mandated various forms of lockdown and social distancing measures in an attempt to prevent transmission. Now, as European nations increase their testing capacity while easing lockdown measures, it is crucial that guidelines are put in place to define who should be given priority access to these tests.
As most of Europe begins to ease lockdown, we must remember that social distancing is a luxury unavailable to many thousands of individuals forcibly displaced from their homes. For migrants in refugee camps across Europe, crowded under makeshift shelters and lacking basic amenities, containing COVID-19 through household isolation is impossible. In April, two Greek refugee camps reported their first confirmed COVID-19 cases, and by mid-May four migrants arriving on the Greek island of Lesbos had tested positive for the disease. This prompted fresh calls to protect the 42,000 asylum seekers currently trapped on five Greek islands with the capacity to host 6,000 people. Similarly, thousands of migrants in makeshift camps along the north coast of France are at high risk, with three cases confirmed by early May. Until suitable accommodation is found for all migrants in camp settings, health authorities must urgently implement plans for rapid identification, isolation, and treatment of cases.
There is both a scientific and an ethical argument for prioritising COVID-19 testing for those at highest risk, including those in camps. Infections spread easily in these settings; in 2016 alone, the Calais camps reported back-to-back outbreaks of varicella and measles. Recognising the difficulties that individuals in these settings face, the UN Refugee Agency (UNHCR) has urgently appealed for US$255 million for preparedness and response efforts including surveillance and contact tracing, alongside appealing to national governments to include all migrants and refugees in their testing programmes. European governments have neglected the rights of migrants and refugees for many years, failing to address the appalling conditions in camps which place them at high risk. As such, they now have a responsibility to act to prevent a humanitarian disaster within these camps.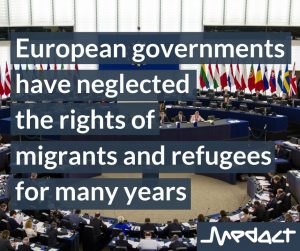 Until necessary community-wide scale-up of testing facilities is achieved, many European countries are already acting on European Centre for Disease Prevention and Control (ECDC) recommendations to expand capacity in high-risk settings such as long-term care facilities for the elderly and other closed institutions. We argue that camps housing migrants  constitute a similarly high-risk setting that should be prioritised for mass testing, to identify asymptomatic as well as symptomatic infections and prevent transmission. The recent cases among refugees travelling to Lesbos were identified by random testing carried out by the Greek National Public Health Organisation, enabling them to be quarantined before reaching Camp Moira, which would have otherwise put the further 18,000 people who live there at risk. This underscores the importance of scaling up such efforts.
Experiences from countries both within and outside Europe have shown that testing, isolating, and contact tracing can be successful in containing the spread of COVID-19. In South Korea, authorities quickly launched a massive testing and contact-tracing programme, setting up free drive-through testing centres and isolating those infected, which has largely contained the epidemic without extensive lockdown. Similarly, Germany's significant testing capacity is thought to have contributed to its relatively low number of COVID-19 deaths in comparison with other European nations. In Italy, following its first COVID-19 death in the town of Vò, the entire population of 3,300 residents was quarantined and tested. This revealed that most infected individuals were asymptomatic, a scenario which could spell disaster for migrants residing in camps. Importantly though, testing in Vò ensured measures could be put in place effectively stopping the local outbreak. Such a model could and should be replicated in camps housing migrants.
There are undoubtedly challenges to rolling out testing in camps that lack formal healthcare facilities and basic infrastructure. There is an urgent need for diagnostic technologies that can be used in such settings, such as point-of-care rapid tests. Indeed, the development of many such technologies is progressing rapidly. As testing instruments are improved, European governments must ensure that these are made available in camps as a matter of urgency. This must be combined with effective isolation facilities and contact tracing, given the impossibility of social distancing in makeshift shelters and tents. In Cox's Bazar, Bangladesh – the world's largest refugee camp home to one million Rohingya refugees – testing began in early April with a system of contact tracing now in place, and around 300 dedicated isolation units built by early May. It is essential that European camps learn from such efforts, as the ability to trace and isolate cases will be key to protecting their residents.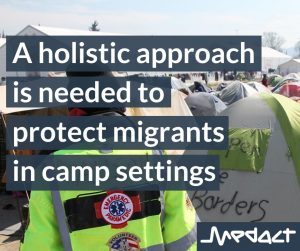 A holistic approach is needed to protect migrants in camp settings, ensuring that testing, isolation, contact tracing and treatment facilities are all in place, alongside evacuation of the most vulnerable. Communication is central to this effort; migrants in camp settings have often been let down and forgotten by successive governments, leading to a distrust of authorities that can act as a barrier to effective testing and contact tracing. Setting up testing and isolation facilities without fully engaging the community risks exacerbating their fear and alienation. COVID-19 preparedness and response activities must therefore be carried out in a participatory way informed by community feedback. Transparent messaging in local languages through community-based networks is essential to establish and maintain trust.
The danger of COVID-19 has not yet subsided, and many individuals such as those in refugee camps continue to be at high-risk. If COVID-19 spreads in such settings undetected and uncontrolled, the impact on these individuals will be devastating. European governments must commit to prioritising COVID-19 testing for this population, backed by a steadfast commitment to isolate and treat every case. As the United Nations Network on Migration has stressed, "COVID-19 does not discriminate, and nor should our response".