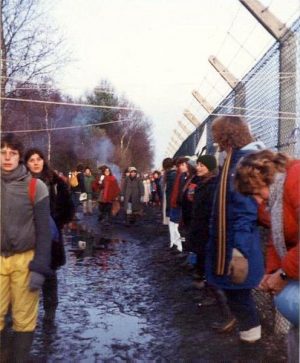 This blog discusses issues relating to arrestable non-violent direct action. Health professionals may risk losing their professional license to practice if they are arrested during demonstrations that engage in NVDA. Health professionals are also asked to declare convictions, even if they are spent, and these can have implications on your ability to work. Medact as an organisation does not encourage its members to take part in arrestable actions. Any member making a choice to engage in such action does so as an individual and not as a member.
Guidance from the GMC can be found here and from the NMC here. Grassroots group Green and Black Cross provide general advice and resources for activists engaging in NVDA.
This month saw a landmark decision to charge 15 anti-deportation activists (known as Stanstead 15) under terror charges, for which they have been found guilty and are now waiting on sentencing in February. Their attempts to prevent the departure of a deportation flight represent one of the most ambitious and risky uses of non-violent direct action in recent years. The extreme nature of their actions was, in their words, called for by a failure of government to address human rights abuses and help protect the lives of vulnerable individuals who were being sent off to an unknown future.
The Stansted 15 are one of a few groups of activists who have committed themselves to using arrestable non-violent direct action (NVDA) as a means to shift political discourse and action on social injustices. More recently, a group of anti-fracking activists in Blackpool called for more of the public to get involved in environmental actions after their own judicial sentences were quashed on appeal. Soon afterwards saw the rise of Extinction Rebellion – a new yet contentious environmental movement whose members have committed to arrestable action until the government commits to their three demands.
Mahatma Gandhi, perhaps history's most famous proponent of the use of NVDA, once said "nonviolence is the greatest force at the disposal of mankind. It is mightier than the mightiest weapon of destruction devised by the ingenuity of humanity." In this blog, we ask ourselves what is driving citizens to NVDA, how health professionals have historically engaged in arrestable political action and what this has meant, or might mean, for their careers. For this, we interviewed two practicing health professionals about their experiences and insights into engaging in NVDA and how this informs their activism.
Participating in The Extinction Rebellion: a working GP's viewpoint
When I told my colleagues that I would be participating in The Extinction Rebellion, all faces immediately lit up with hope and relief. I have not seen a similar outburst of pleasure at a practice meeting in years. All the GPs said that they would stand in for me and do my work if I had to attend court at short notice. The practice manager said she would inform all my patients why I was not there. All agreed that whatever I did would have their support, and that I was doing it on their behalf and on the behalf of our patients.
I realise that I am in a privileged position. After thirty-five years working in medicine, I am approaching retirement. The Bristol-based practice where I work as a salaried GP is one of the few locally that has a full complement of permanent GPs. We each work four to six sessions a week. Each of us has the capacity to work an extra session occasionally or to take on some extra work, even if this does not come easy. There is a strong ethos of working cooperatively and pulling together.
I understand that many GPs work in severely overstretched practices, where risking arrest and court attendances may be the last straw that pushes a practice under.
Stepping up climate action: urgency and ambition from a long-time activist
As a GP, I have always felt a responsibility not just to look after individual patients and their families, but to contribute to the health of the public at large. As the GMC states, the role of a doctor is "to protect and promote the health of patients and the public". My first experience of health activism was at Greenham Common, and marching and speaking with the Medical Campaign Against Nuclear Weapons call for "Treatment not Trident". More recently, I have written about Medact for newspapers and the medical press. I was arrested during a Medact demonstration at Faslane and learned a lot from the experience.
It is clear that disarmament and the climate crisis are inextricably interlinked and we need to find imaginative ways of sharing this with colleagues, students and the general public. Some colleagues find the idea of doctors using their professional voice to address these issues uncomfortable and my activism has occasionally been criticised by colleagues but, more often, colleagues and patients have expressed support. Understanding the wider political context of patients' lives, be they migrants or people struggling with poverty and discrimination, has, I believe, enhanced my ability to be an effective doctor and it has definitely kept alive my passion for NHS healthcare.
I have always enjoyed my contact with medical students and young doctors and sought appropriate ways to introduce these crucial issues into teaching. Now, as someone no longer in clinical practice, I have more flexibility and freedom to express my views more openly in whatever way feels effective, respectful and inclusive.
The medical peace movement, from which Medact emerged, has strong Quaker roots tying it to a history of radical nonviolent direct actions. It is of definite interest therefore, that members of Medact, as individuals, continue to engage with us in conversation about this. Whatever your choices as a health professional, experiencing a call to action is very personal thing.
In researching for this blog, we connected with members who also reflected on the growing hostile environment for activists. For Medact this is particularly relevant when thinking about the increasingly shrinking space that civil society operates in under the Gagging Law, as well as the targeting of individuals who have had restrictions on their ability to travel or being targeted by the media. As a movement of health professionals working towards a world in which everyone can exercise their human right to health, our role may be to defend and support NVDA activists as they choose to take actions that we are otherwise not permitted to take. We would love to hear thoughts on how we can best address some of the biggest challenges that we face within the confines of our political and legal system.