On Tuesday 23rd October Medact coordinated a day of action to call for an end to the Hostile Environment in the NHS. The day marked the one year anniversary of the Department of Health introducing a policy that forces NHS Trusts to check patients' ID before allowing access to treatment, as well as charging for secondary care up-front and at 150% of the cost.
A year on, we have seen the untold harm this policy has caused to people simply trying to access the healthcare they need and should be entitled to. From the Windrush scandal and Sylvester Marshall being billed £54,000 for cancer care to Trusts sending debt collectors to destitute mothers, we have seen values of the NHS fracturing. To combat this, we have witnessed unwavering resistance from healthcare professionals across the UK through mass demonstrations and the returning of medals to the Government.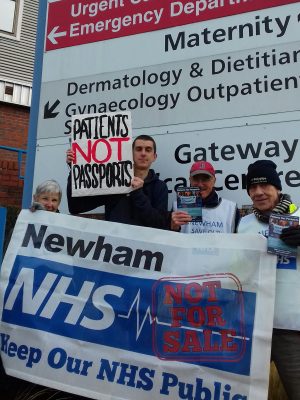 Medact has spent the last 6 months working with healthcare workers from Barts NHS Trust and with people from the local community, supporting them to call on Barts Trust to stop checking people's ID and charging up-front for care.They are asking that the Trust stand up for the rights of patients and join with healthcare workers in telling the Government that there is no room for the Hostile Environment in the NHS. The day of action follows open letters, signed by over 600 people, being sent to the Trust board.
The day started with stalls run by local groups, Keep Our NHS Public Tower Hamlets, Waltham Forest Save Our NHS,  and Newham Save Our NHS, at Newham, Whipps Cross and Royal London hospitals. In the afternoon Medact and Docs Not Cops hosted a twitter storm, with people in support of ending the policy uploading selfies holding a sign reading "I'm a patient not a passport" under the hashtag #PatientsNotPassports and directed at @NHS BartsHealth and the CEO of Barts Health @A_WilliamsNHS. The day culminated in a rally at the Royal London Hospital in the evening, The experiences of both patients and doctors were shared in order to convey how damaging the practice of checking ID and charging has already been.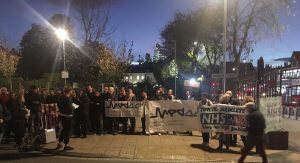 This policy undermines the principle of universality that the NHS was built on. It damages the bond of trust healthcare workers have with people accessing care, it disproportionately impacts people from marginalised communities, and is likely to cost more in the long term than it would to allow universal access to care. In his piece on why upfront charging harms everyone, Ed Jones writes:
"I've seen it for myself when I volunteered with Doctors of the World, supporting migrants to access healthcare in the UK. One patient we saw had a stroke, and was admitted to hospital unconscious. They were not charged for their time in A&E, however they were charged over £40,000 for their time in the Intensive Care Unit (secondary care). The Doctors of the World clinics in London see many cases where lifesaving care – including cancer chemotherapy, surgery and palliative care – is withheld unless paid for upfront because it is classified as 'non-urgent."
Me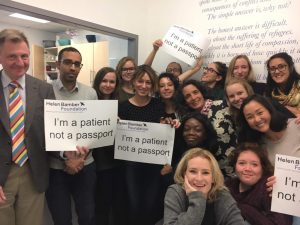 dact is working across the country to fight upfront charging and ID checks in the NHS. Wherever you are, and whether or not you work in healthcare, there are lots of ways you can get involved and help end this devastating policy: