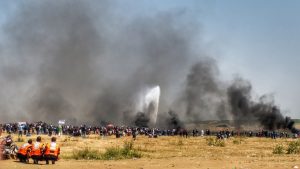 Since 30 March, Gaza has witnessed widespread civil society-organised demonstrations at the perimeter fence, dubbed the 'Great March of Return'. Protesters, many of them among the two-thirds of Gaza's 2 million population who are refugees, are demanding their right to return to the lands from which their families were expelled or fled in and around 1948, as well as their wider rights relating to Israel's unlawful 11-year closure of Gaza.
To date, the Israeli military's shocking use of force against these protesters has resulted in 160 deaths, and injured a further 18,739 people.
Health workers trying to reach, treat and evacuate wounded demonstrators have also come under fire.  Scores have been shot with live ammunition, directly hit with teargas canisters or have suffered teargas inhalation.  Dozens of ambulances have been damaged. By 27 August, three health-workers had been killed and 404 injured by Israeli forces while carrying out vital and often life-saving work.
Medical Aid for Palestinians (MAP) is imploring the UK authorities to do more to ensure protection and support for Palestinian health workers. The tragic stories of the three paramedics killed in Gaza since 30 March demonstrate why such action is so urgent:
Musa
On 14 May, field paramedic Musa Abu-Hassanin was fatally shot while trying to evacuate wounded demonstrators east of Gaza City. Witnesses said Musa was about 200 meters from the perimeter fence at the time. An hour before his death, Musa helped a member of his team, Tarek Loubani a Canadian-Palestinian doctor, who had been shot in both legs.
"Musa's my rescuer. He was a very bright guy. Incredible man. About an hour after he rescued me, he was trying to get another patient, and ended up getting shot in the chest. Unfortunately, he died. It's unfortunate because we, as a medical team, always hope for and expect some protection. We're not there politically. We just want to make sure that if people get into trouble, we're there to help them." Tarek Loubani
Razan
On 1 June, 21-year-old medical volunteer Razan al-Najjar was fatally shot while trying to reach injured demonstrators close to Israel's perimeter fence in Khuza'a in the south of Gaza. Witnesses said Razan approached the fence wearing a white medic's vest with both of her arms raised to show Israeli forces about 100 meters away that she posed no threat.
"My daughter was performing a humanitarian job. She was a volunteer. What gives you [the Israeli sniper] the right to kill her and directly target her while she only had her vest and ID as her weapon?" Sabreen al-Najjar, Razan's mother, told MAP.
Abdallah
On 10 August, 22-year-old first responder Abdallah al-Qutati was fatally shot while providing care to a 55-year-old man who had been shot by Israeli forces east of Rafah, south Gaza.
"Abdallah was performing a humanitarian job. He didn't hold a gun. He was not a militant, nor a terrorist. He had medical solution and gauze to help the injured. This is a war crime. They must be held accountable in front of the world". -Abdallah's brother, Mohammed al-Qutati
Abdallah al-Qutati: Family and colleagues of third paramedic killed in Gaza speak out
These deaths only tell part of the story. Over the past decade, health workers and facilities have repeatedly been attacked or impeded by Israeli forces. In total, 39 health workers were killed and 106 injured during Israel's 2008/9, 2012 and 2014 military offensives on Gaza. 147 primary health clinics and 80 ambulances were also damaged or destroyed. Impunity fuels further killings and injuries.
Attacks on healthcare have impacts far beyond the initial pain and damage. They reduce the capacity of the Palestinian health system to adequately care for the population, particularly during emergencies, and therefore undermine Palestinians' right to health in the long-term. Failing to ensure accountability for these violations increases the likelihood of recurrence and further erodes the international norms which ensure the protection of health professionals and infrastructure in conflicts around the world.
A dangerous double standard
In 2016, the UK Government championed UN Security Council Resolution 2286, condemning attacks on health services in conflict, demanding that states comply with international humanitarian and human rights law which prohibits such violations, and urging states to take proactive steps to hold perpetrators to account.
And yet in the context of Israel's use of force against protesters and health workers in Gaza, the UK has failed to put its principles into practice. On 18 May, the UK abstained on a resolution establishing an independent Commission of Inquiry to investigate violations of international law in Gaza at the UN Human Rights Council in Geneva.
The Government has instead called on Israel to investigate its own violations by carrying out an "independent and transparent investigation" which they insist should include "international members". This is despite warnings the UN High Commissioner for Human Rights of Israel's "failure to consistently prosecute violations committed by members of security forces" and the "deficit in accountability for alleged extrajudicial killings and other violations [which] undermines confidence in Israeli justice".
By the admission of Foreign Office Minister Alistair Burt MP, the UK has "yet to have a full response" to their suggestion to Israel that their internal investigation should have an independent element. Israel is clearly unwilling to adequately and promptly investigate the killing and injuring of Palestinian health workers, and it is time for the UK to revise their position.
Take action
We have launched a petition calling on Lord Ahmad, Minister of State for the Commonwealth and the UN, to ensure the UK takes practical steps to implement UN Security Council Resolution 2286 in the context of attacks on Palestinian healthcare and to promote adherence to international law and support for essential healthcare by:
Supporting credible, timely and independent investigation into alleged violations by reversing the UK's position on the UN-mandated Commission of Inquiry, and actively encourage Israel and all relevant parties to cooperate with it and to allow it full access;
Ensuring that the Department for International Development support to Gaza provides sustainable medical care, rehabilitation, and psychological support to victims of attacks against health workers and facilities in the occupied Palestinian territory; and,
Publicly calling on Israel to fully adhere to its international legal obligations as the occupying power in Gaza, including by bringing the closure to an end.
To learn more and sign MAP's petition click here