On September 30, we joined Docs Not Cops and a coalition of anti-racism and pro-migrant organisations outside Guy's and St. Thomas' hospital to protest the introduction of immigration checks and upfront charging coming into force on 23 October 2017.
We listened to powerful testimonies from people affected by the new discriminatory NHS policy and the human impact of these changes.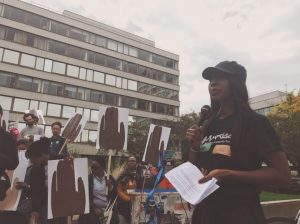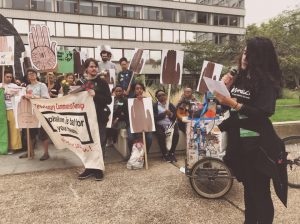 Sister events were also held in Manchester and Newcastle. Members of the Refugee Support Group and Medact Manchester wrote about why they took action on September 30, reiterating that they see #patientsNotpassports.
A number of members have written articles concerning the changes:
Dr Jess Potter, New discriminatory NHS policy is bad for your health, whoever you are – The Conversation, September 29
Dr Joanna Dobbin, Why I'm standing with pregnant women and resisting NHS passport checks –  Pepper, September 28
Dr Louise Tomkow, Don't Blame The Immigrants: We Want To See Patients Not Passports – Huffington Post, September 29