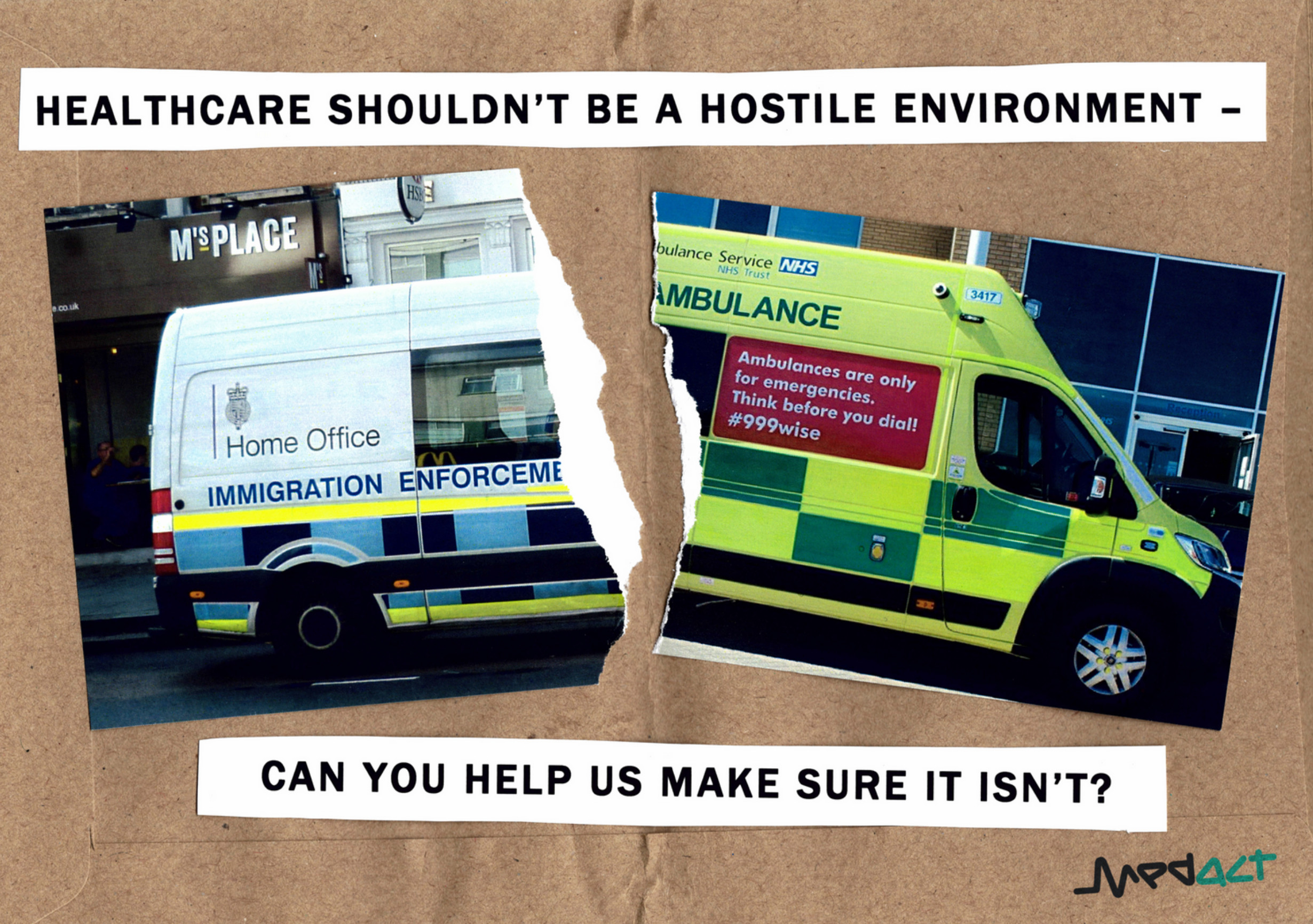 For those seeking refuge, the UK is becoming increasingly unwelcoming. Sadly our NHS is no exception.
For some time, the NHS has been forced to share patient data with the Home Office for immigration enforcement. This year saw the new roll-out of ID checks and upfront charging for those deemed ineligible for free secondary care.
The devastating effect of these policies is already clear. Frontline health professionals have told Medact of pregnant women and cancer patients staying away from hospital for fear of being charged or deported.
The regulations are damaging the relationship between the health service and patients, forcing the NHS to act as border control.
And it could get worse in the new year – the ID-checking and charging regime is planned to be extended to primary care and A&E.
This winter, you can help us to stop these damaging changes in their tracks and end the hostile environment in the NHS.
A donation from you could make a difference to how much we can do to win change for some of the most vulnerable people in our society.
<div id="CAFDonateWidgetContainer" style="border: solid 1px #2c3e50; max-width: 460px; margin: auto;"></div><script type="text/javascript"><!– [et_pb_line_break_holder] –>var caf_BeneficiaryCampaignId=7550;<!– [et_pb_line_break_holder] –>document.write(unescape('%3Cscript id="CAFDonateWidgetLoader_script" src="https://cafdonate.cafonline.org/js/CAF.DonateWidgetLoader_script.js" type="text/javascript"%3E%3C/script%3E'));<!– [et_pb_line_break_holder] –></script><!– [et_pb_line_break_holder] –><div id="CAFlink" style="background-color: #2c3e50; padding: 18px; font-size: 26px; border-radius: 3px; width: 90%; margin: auto;"><a href="https://cafdonate.cafonline.org/7550<!– [et_pb_line_break_holder] –>" style="color: #fff;">Donate</a></div>