Nuclear Convoys: coming soon to a hospital near you!
Written by Matt Hawkins, Project Officer at ICAN UK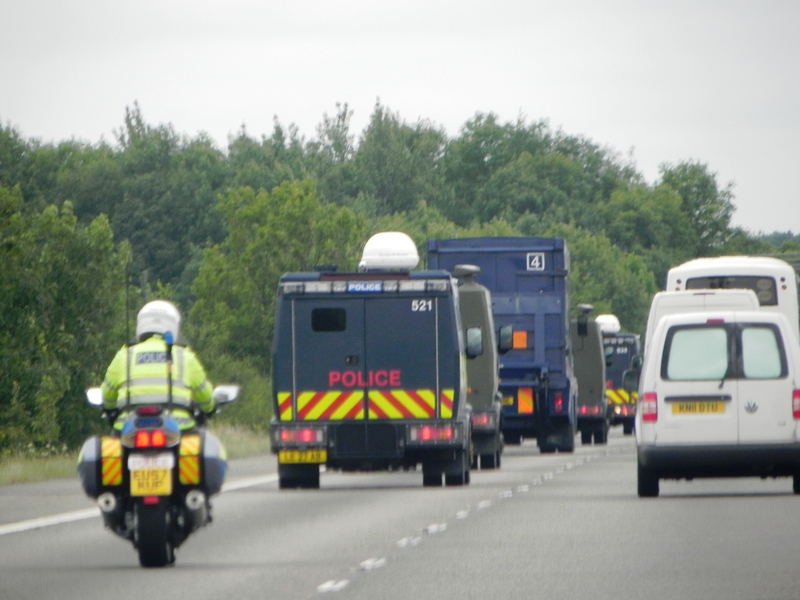 Out of sight and out of mind: this might be the best way to describe the concept of nuclear weapons to many people. They seem to be either a relic of the past – a time when America and Russia were engaged in the world's deadliest game of chicken – or a concern not for the British public but for men in suits negotiating with North Korean and Iranian ambassadors at the UN.
This perception is neither accurate nor fair on the British people.
Weapons 8 times more destructive than the bombs that killed 150,000 civilians in Hiroshima and Nagasaki in 1945 are routinely carried on ordinary British roads, transported from the Trident base in Scotland to their refurbishment site in Berkshire. They drive past our schools, our hospitals, workplaces, and our homes. Breaking into our daily lives, the impact of a radiation leak due to a traffic accident or, worse, an explosion caused by a terrorist attack, would be absolutely devastating.
If you happen to live in any of the towns and cities along the route, a route that takes in huge populations in Birmingham, Newcastle, Leeds, and Manchester, it's unlikely you've been asked whether or not you want these weapons to come anywhere near your home. Unsurprisingly the government is not keen on you knowing the danger it is bringing to your doorstep.
That is why the International Campaign to Abolish Nuclear Weapons (ICAN-UK) is launching a new campaign to raise awareness of these nuclear weapons convoys.
We don't just want to make people aware of them. We want to make them safer too.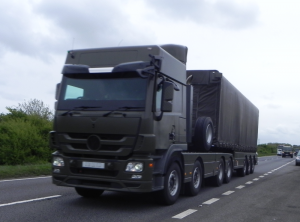 The only way to remove the danger posed by these convoys is to remove the weapons. We don't have to live in a world where our government chooses to put its public in danger by transporting nuclear weapons on its roads – roads designed not for weapons but for the school run, for commuters, and for emergency services. We don't believe it makes us any safer to increase the risks of a terrorist attack on our soil by possessing weapons they would like to detonate. And, fundamentally we don't believe it is right for us to hold on to weapons that could kill tens of millions of people in a single blast.
Right now the UN is negotiating the terms of a major new treaty that will completely ban nuclear weapons. The UK isn't at the table – but they should be. By spreading the message to new people and groups, we can build a new wave of support for the scrapping of Trident. Our campaign now has a new website, petition, and sign-up to help everyone from Lands End to John O'Groats to get involved. This summer we will be holding a series of big campaign meetings in key cities and towns along the route, building up to week of events in September just before party conferences begin. We've waited too long for our politicians to grasp the nettle and build a safer and more peaceful world. That's why this movement will put the power to do so back in the hands of the public.
And crucially, you can help us to do that. Doctors, nurses, midwives, and others working in hospitals along the route – we'd like to know if your hospital has a contingency plan in place for an accident involving a nuclear convoy. Health workers, if such an accident occurred, do you feel you know of the serious short-term and long-term impact of a convoy accident?
Please tell us anything you know by emailing [email protected]. You can also support us by:
Taking a selfie outside your hospital with a sign saying #NukesofHazard and #healthpeace

Attending one of the public meetings taking place in

Birmingham

,

Newcastle

, and

Preston

to discuss the convoys

Let Matt Hawkins, the Project Officer for ICAN, know if you'd like to feature in one their campaign videos:

[email protected]

Visit the campaign webpage and sign the c

ampaign petition

.

Arrange a meeting with your hospital managers to discuss your concerns about the impact of an accident involving a nuclear convoy.  
Photo credit to Nuke Watch: http://192.185.186.105/~nukewatc/