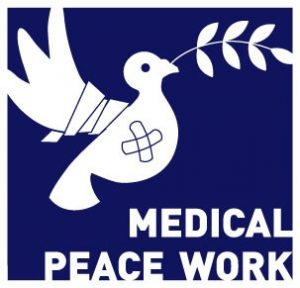 European health groups, including Medact, today launched new educational materials to educate nurses, doctors, students and others on the health aspects of war, violence and armed conflict. The new case studies form part of the Medical Peace Work framework and depict challenging situations for health professionals in the search of preventing and reducing violence – as well as promoting peace, sustainable development, and human rights. They aim to show the role of doctors, nurses and others in building trust, understanding, mutually enriching structures, and cultures of peace.
The twelve case studies are intended to be used as the basis for group work and class discussion in both, formal and non-formal educational settings for health professionals and their students. Accompanying teaching notes are available for teachers and trainers. The resources are available free-of-charge.
The case studies, which will be promoted worldwide by the Case Centre, were developed by nine organizations from Norway, Germany, Italy, Austria and the UK. They are not only designed for health professionals and students who wish to do humanitarian or development work or who want to work with human rights or medical peace organizations. The case studies are valuable for all health workers, no matter where they work and live.  The issues tackled in the case studies ranges from climate change and structural violence to the abolition of nuclear weapons.
Case-based learning is a methodological learning approach in which students in groups try to understand a fictive or real case situation and to solve presented challenges. It enables active peer learning.
To access the cases, go to www.medicalpeacework.org
For more information about the case studies, contact
Dr Klaus Melf, +47 -91 76 15 91, Norwegian Physicians Against Nuclear Weapons
Chris Venables, + 44 (0)20 7324 4739,  Medact   
Note To Editors
The case studies were developed by: Norwegian Physicians against Nuclear Weapons, Samaritan Austria State of Styria, 4change, IPPNW Germany, Medact, The Case Centre, Medical Mission Institute Würzburg, University of Bergen, Nuremberg General Hospital