Thank you to all those who contributed to our matched funding appeal to mark the 70th anniversary of Hiroshima! 
Nuclear weapons are the most destructive, inhumane and indiscriminate of weapons ever created: both in the scale of the immediate devastation they cause, and the more long-term effects of radiation. Seventy years ago, close to a quarter of a million people died in the days and months after the nuclear bombings of Hiroshima and Nagasaki.
Yet, despite this experience of great suffering and harm, there is no international law or treaty to ban these weapons. Nuclear weapons have slipped pass the post World War 2 development of international law and the banning of other weapons.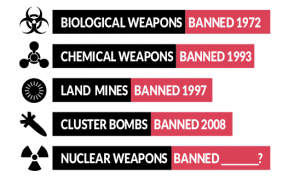 Medact is part of a coalition of 200 organisations from across the world, which includes the International Committee of the Red Cross and Red Crescent, who are working to establish a treaty banning nuclear weapons on humanitarian and health grounds.
Here in the UK, Medact is working with International Campaign to Abolish Nuclear Weapons (ICAN-UK) to make the medical and public health case for abolition. This will feature at Medact two-day 'Health Through Peace' Forum in November.
We are also hosting events at medical and nursing schools in the run-up to the Forum to help mobilise interest in our efforts to rejuvenate the body of health professionals committed to eliminating the threat of nuclear weapons.
This year our Hiroshima appeal is being supported by a matched fund: this means that any donation you make will be automatically doubled by donors who have agreed to match your contribution.
We are already seeing signs of new and growing interest amongst students and younger health professionals in the issue of nuclear weapons, and your support will contribute to us sustaining this momentum.
Thank you for considering this appeal,
Dr David McCoy and the Medact Team