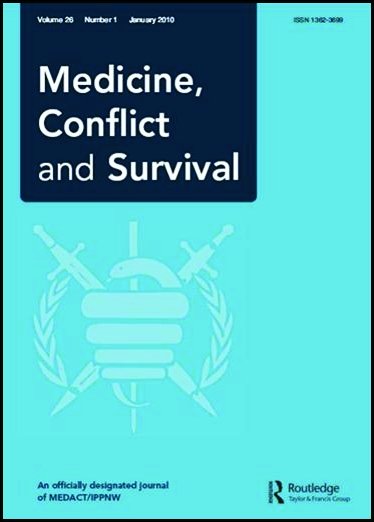 The Medact-affiliated academic journal Medicine, Conflict and Survival is currently seeking a student representative for its Editorial Board.
The Student Representative will have full status as a member of the journal's Editorial Board and will be expected to play a full part in the life of the journal, including attending Editorial Board meetings (held quarterly in London) whenever possible. A 'role guide' for Editorial Board members can be found below.
The appointment will be for a one year period, renewable for a further year on the condition that the individual continues to have student status and is actively contributing to the journal.
Medicine, Conflict and Survival views student representation on its Editorial Board as offering a number of benefits to the journal, not least in providing MC&S with the opportunity to benefit from the input of young and enthusiastic individuals; maintaining an active link between the journal and student networks; encouraging entries to the annual Holdstock-Piachaud student essay prize; and fulfilling our remit of supporting the next generation of scholars. Membership of the board of an academic journal also has clear benefits for students, offering them the chance to acquire valuable skills and experience.
For more information visit: http://explore.tandfonline.com/cfp/pgas/MCS-Call-for-Editorial-Board-Student-Representative.
Applications
Applicants should send a CV and a covering letter outlining their motivation for applying and the skills and experience which they bring to the role. Applications should be sent to Christopher Venables, Medicine, Conflict and Survival administrator at [email protected] by 30 November 2013. The selection process will take place during December 2013.