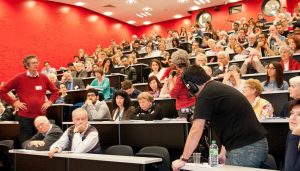 On Saturday 9th November, more than 250 people attended a Medact conference on the interfaces between health, politics, ecology, economics, and violence. There were about 30 speakers including well known figures from the world of health (Richard Horton, Iain Chalmers, Allyson Pollock, Andy Haines, John Lister, and Jacky Davis). But there were also speakers from other worlds such as Jim Welsh from Amnesty International, Charlie Kronick from Greenpeace, John Hilary from War on Want, Maya Foa from Reprieve, and Peter Burt from the Nuclear Information Service.
Students, doctors, nurses, and other health professionals talked and engaged with lawyers, economists, human rights experts, and political scientists about the wider determinants of global health. The discussion was serious, but the space buzzed with energy!
The conference was designed to draw attention to a set of three interconnected crises that are set to spiral out of control and reverse improvements in health that have been made worldwide over the past few decades. These are: 1) war, violence, and militarisation; 2) ecological degradation and climate collapse; and 3) enduring poverty and widening inequality. Each of these crises is a problem in its own right—but Medact believes they also interact in vicious and potentially uncontrollable ways.