The tone for the19th Conference of the Parties to the UN Framework Convention on Climate Change (COP19 of the UNFCCC) was set by the Philippines' lead negotiator, as he spoke emotionally in the opening plenary of the death and devastation caused by super typhoon Haiyan in his home country, and in particular his home province of Leyte. He announced that he would be on hunger strike for the duration of the talks, unless meaningful action was taken to stop climate change.
There are now at least 100 people joining Sano in fasting; the number is growing daily. You can watch his speech at http://vimeo.com/79117298 – and it's worth sharing.
Whilst we can never attribute a single event to climate change – even the strongest cyclone ever at the time of landfall – it is perfectly plausible, and since there is evidence that similar events are likely to increase under climate change, it is the kind of event we will be seeing more often and need to help countries adapt to, as well as a very good reason to take decisive action on climate change.
However, the Polish government's COP19 presidency seems to have convinced themselves otherwise. Incredibly, not only are the sponsors a mix of fossil fuel, mining, car and aviation companies, but they are also pushing for coal to become a more significant part of both Poland and the EU's energy strategy. And rather than give official support to tomorrow's Climate and Health Summit, they are hosting an 'International Coal and Climate Summit' in parallel with the UN talks.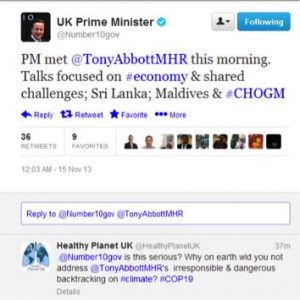 At the same time, Australia and Japan have both gone dramatically backwards on tackling climate change, apparently oblivious to the suffering climate change is already causing, and the much worse impacts that will happen in the future without ambitious action. Unbelievably, Canada has praised Australia's backtracking, whilst David Cameron met him today to discuss 'shared challenges', apparently without addressing this shameful and irresponsible move. All governments should speak out to condemn the move, just as the Australian people are doing – the vast majority of Australians want more action on climate, not less.
Heather Bruer, of Climate Action Network (CAN) Australia, said, "We just had the hottest October on record in Australia. It's becoming bit of a pattern – the last 12 month period was also the hottest on record. And yet Tony Abbott and our new government are going backwards on climate change. They've cut the climate commission, the climate department, and refused to provide any new climate finance. But the majority of Australians do want action – that's why we're planning a huge protest this Sunday, and over 200 actions across the nation. Rallies alone won't solve the climate crisis. We have to be patient, committed and strategic. We have to be strong, and we have to be many. This Sunday, Australians will show ourselves to be all of these things. As a young Australian, and one who grew up on a country farm, already being affected by climate change, I am heartened that my country cares about my future, and that of all young people. We will make sure that our community concern becomes the concern of our government."
Meanwhile, Japan has announced that it will move from the goal of a 25% reduction on 1990 levels by 2020, to a goal equivalent to a 3% increase on 1990 – blaming this on Fukushima and the shift away from nuclear although it would be feasible and affordable to meet their existing targets through renewable and efficiency measures. The move also ignores the atmosphere at the talks, the IPCC'S recent report on the state of the science, and the repeated statements being made about the urgency of action. Kimiko Hirata, International Director of the Japanese NGO Kiko Network, said, 'Japan is betraying these people. … It's totally unhelpful – what a disruptive contribution to this process, where everyone is working hard to try to find a solution. It's not only about the goal but also about the process, which was totally untransparent. Japan is the fifth biggest emitter, and has a serious responsibility to the climate'.
Wael Hmaidan of CAN international – who has been fasting in solidarity with the Philippines since Monday – said at a press conference today, 'it's really hard to eat when you realise that disasters like this are happening, and countries like Australia and Japan are changing their legislation and dramatically reducing their emission reduction commitments. You don't feel hungry then.'
Isobel Braithwaite, Healthy Planet UK
Links to find out more:
Healthy Planet UK's blogs, liveblog, facebook and twitter
Tcktcktck's live blog and CAN International's online coverage