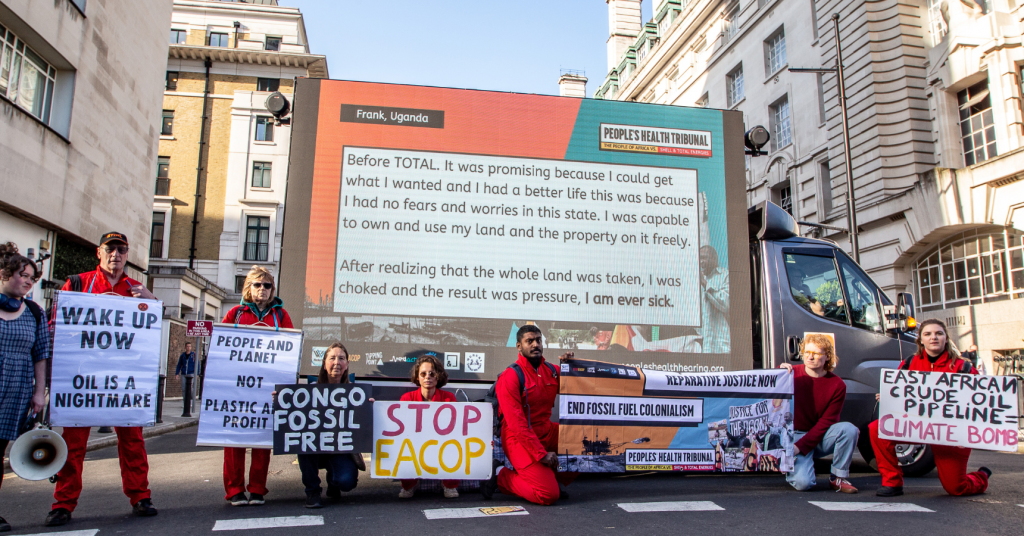 People's Health Tribunal statement on Africa Energies Summit 2023
People in London are taking action at the Africa Energies Summit today, to stand in solidarity with communities resisting the violence of fossil fuel companies across Africa. Shell, TotalEnergies and other destructive corporations gathered in London must pay for their harm to communities across Africa and their contributions to the climate crisis.
The Africa Energies Summit's attendee list contains many corporations known for human and environmental rights abuses, meeting to discuss their new projects and investments in Africa, inflicting death, displacement, and pollution on communities. At the People's Health Tribunal on Saturday, 13th May, these communities shared how Shell and Total have destroyed livelihoods and health in South Africa, Mozambique, Nigeria and Uganda. The testimonies of these communities are being played outside the conference.
People across Africa are fighting back against these companies, and the protestors in the UK stand in solidarity with those resisting extractivist violence. The harm to our communities and our planet that these companies have wrought must end NOW. We demand an end to oil and gas exploration, reparative justice for all those harmed by extractive projects across Africa, and a just, sustainable energy system for all.
At the People's Health Tribunal, we have heard the full extent of the damage to human and environmental health caused by the deplorable acts of two of the worst energy companies operating in Africa – Shell and Total – as communities have come together to share their experiences and hold fossil fuel corporations to account.
Henry Eferegbo from the Obelle community in Nigeria testified: "The neglect of Shell has caused hunger and poverty which you can see in the faces of the people… A lot of people are dying of strange and complex illnesses such as cancer, kidney failure, heart diseases, respiratory issues, and infertility are very common now."
One project-affected person from Uganda, whose name was hidden due to the threats facing those who resist the East African Crude Oil Pipeline, testified: "All my livelihood and plans were destroyed by Total displacement. These days I find it difficult to pay for my children's schooling, feed my family, and access better health services and accommodation for my children".
Ken Henshaw, Executive Director of the Niger Delta based organisation We The People, said: "For over 6 decades, Shell leading the pack of transnational oil companies in Nigeria have carried out unrestrained destruction of the natural environment and the livelihood of the people of the Niger Delta who depend on the land and rivers for their existence. Farmlands, creeks and community fishponds have been poisoned, while the air and rainwater have been contaminated with oil spills and gas flaring. Each year, Shell and its partners spill millions of barrels of crude oil, and send thousands of families into starvation and destitution. Community people are forced to ingest hydrocarbons that lead to illnesses including cancer, lung complications, and other diseases of the respiratory system. For over six decades, Shell and its allies have used human rights violations to oppress Niger Delta populations while profiting billions of dollars."
Zaki Mamdoo, the coordinator of the StopEACOP campaign, said: "Extractive fossil fuel corporations are ruthless in their treatment of communities and ecosystems across the continent. Too often, their pursuit of profits includes the deliberate and systematic devastation of the livelihoods and well-being of ordinary people, as we have seen with Total Energies' EACOP project in Uganda. These profiteers and their abusive practices have no place in the world we strive to build."
Nonhle Mbuthuma, a land and human rights defender from South Africa, said: "As Indigenous communities, we always respect nature. Communities have a right to decide what is good for them, they have a right to say no, they have a right to choose."
Anabela Lemos from Justiça Ambiental/Friends of the Earth Mozambique, said: "This Summit is just another way for northern fossil fuel companies, financiers and governments to plan further exploitation of Africa. Their track record of displacing entire communities and irreversibly damaging the environment, bringing no benefits, shows they have no interest in the wellbeing of African economies and peoples. With the gas industry in Cabo Delgado, northern Mozambique, TotalEnergies and other fossil fuel monsters are leaving thousands without livelihoods and homes, fuelling war, exacerbating the climate crisis and pushing the country deeper into poverty and crippling debt. This Summit must not be normalised, it is just a war room for the wealthy and powerful to further bleed and devastate Africa."
While we await the tribunal's verdict – to be delivered this Saturday (20th March) by a panel of judges formed of global movement leaders – a coalition of groups are taking action against the Africa Energies Summit to say that these vicious corporations must not be allowed to do their deadly business with impunity.
Signed, the organisers of the People's Health Tribunal and allies:
OilWatch Africa
We the People Nigeria
Muslims for Human Rights (MUHURI)
Don't Gas Africa
Debt for Climate
Justiça Ambiental/Friends of the Earth Mozambique
Medact
Race & Health
Tipping Point
Africans Rising
People's Health Movement UK
Fridays For Future Africa
Climate Live Zimbabwe