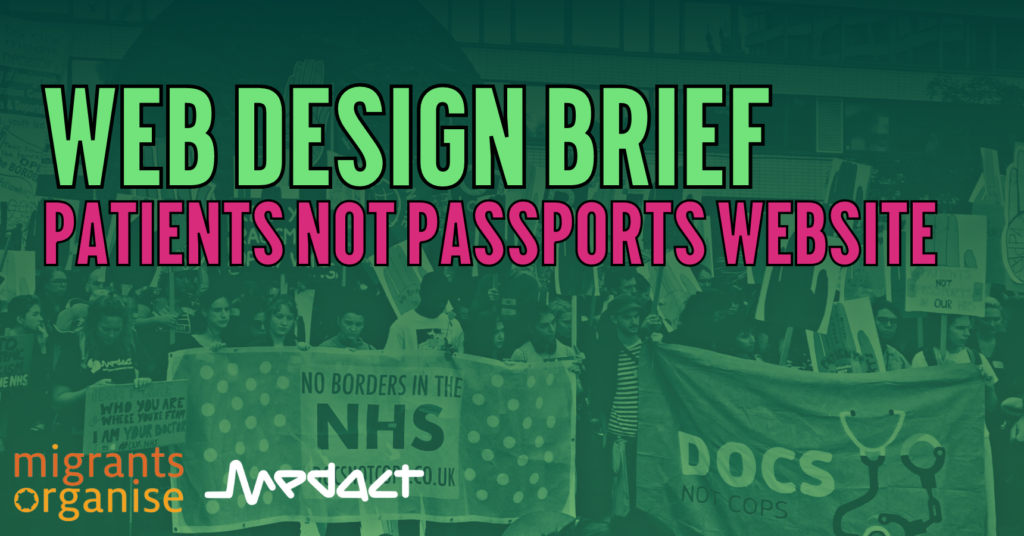 Medact and Migrants Organise are looking to hire a web designer to design and create the web templates for a new WordPress site that will consolidate our Patients Not Passports campaign web presence.
The Patients Not Passports campaign (PnP) is a collaborative project between Medact, Migrants Organise and Docs Not Cops. We organise alongside health workers, migrant communities, patients, and NHS campaigners to resist the introduction of racist immigration policies in the NHS as part of the Hostile Environment. We are looking to consolidate, streamline, and improve the look of our online presence, which is currently formed of a number of disconnected web pages and sites:
Project aims
To create a Patients Not Passports WordPress site to consolidate and renew the campaign's content

Must be clear, accessible and on-brand

Must also integrate with our CiviCRM webforms

Page templates must be set up to be straightforward to edit for content editors without using markup

Must have events signup pages

To condense and simplify the content that is currently situated in various platforms

To create a clear journey to join or get involved with the campaign and take key actions
Your role
Design and code a WordPress theme with page templates for the site according to the structure we have created (approximately 4 to 5 different page types include homepage, basic pages and events)

Work with us to tailor our draft site map, branding, copy, and core assets to best suit the overall design of the site

Upload key content and ensure this fits page template designs

Design templates so that content is as easy as possible to edit by non-technical backend users

Ensure the design meets

WCAG 2.1 AA accessibility standard

 
Our role
Provide initial draft site map, copy, photography, branding guidelines and current core assets

Setup the WordPress hosting of the site, as well as integrations with our CiviCRM and analytics platforms

Manage the design and build process ensuring we keep within budget

Deliver feedback and content to you in a timely manner

Upload bulk of content to non-key pages

Maintain and develop the site further as required

Promote and communicate about the website post-launch 
Timeline
Deadline for submissions 9am Monday 30th May

Successful applicant notified by 10th June 2022

Start design and development no later than w/c 20th June 2022

Final rounds of feedback and edits to happen within August 2022

A working, public version of the site with all content uploaded by September 2022
Our budget
Our budget window for this project is £7000 – £9000 (including VAT).
How to apply
If you are interested, email [email protected] by 9am on Monday 30th May including:
why the project interests you and a short description of how you would approach it

details of which specific skills you can bring

estimated costings (relative to our budget of £7000 – £9000)

some samples of past work
Competitive pricing will be taken into account when we choose between candidates but will not be the sole deciding factor.
We also invite applications with adjusted deliverables and/or budgets if this project is not feasible within your day rate.
Latest posts by Medact Staff
(see all)