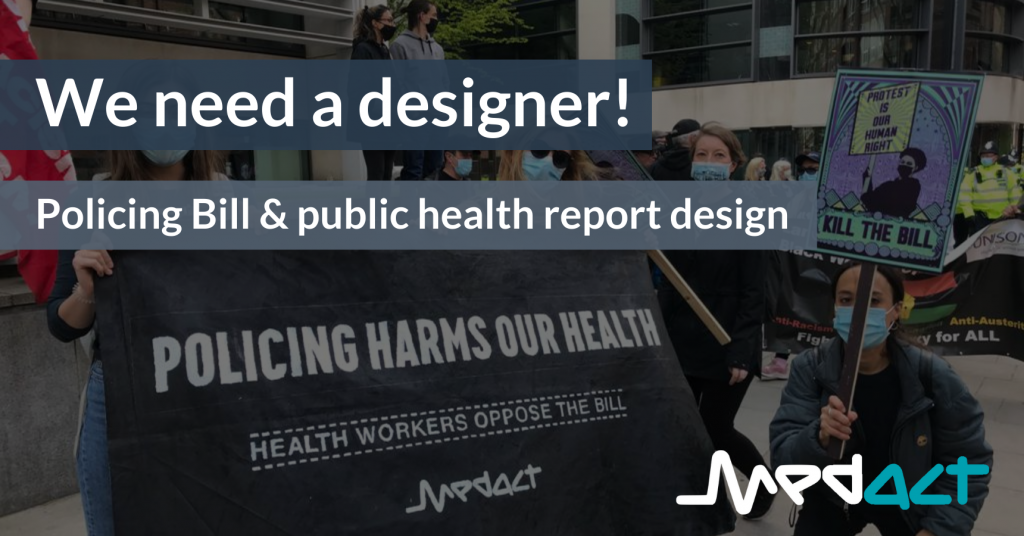 We are looking to commission a skilled freelancer graphic designer to produce materials for an upcoming briefing on the public health case against the Police, Crime, Sentencing and Courts (PCSC) Bill, in support of the movement to Kill The Bill.
Medact is writing a ~3000 word briefing countering the unfounded claims that the PCSC Bill represents a 'public health' approach to serious violence reduction, and setting out a vision of what a real public health approach would look like grounded in experience and research. 
We need someone with the skills to bring this briefing to life in an exciting and professionally designed publication with a distinct visual identity grounded in Medact's brand. Ideally, you will also help us to identify ways to lay out the text in digestible and accessible ways.
To ensure the best reach of this content, we also require visually-appealing, stylised and accessible graphics, appropriate for use on social media getting across the key messages.
We're keen to hear from people with experience of working with similar fresh, people-powered progressive projects. And we're especially keen to work with people from communities that are deeply affected by policing including People of Colour, people with marginalised gender identities and other people with direct experience of state violence. 
Deliverables
Design and layout of one ~3000 word briefing publication (~8 page A4 booklet)

Help identify and deliver ways to make the content digestible and accessible

Draft visual identity and publication wireframes for feedback

~5 illustrated/stylised social media graphics

Print-ready and web PDF format files
Timeline
Deadline for applications: 29th September
We will respond to the selected designer: 30th September
Work start date: 8th October
Delivery deadline: 13th October
Budget
~£600
Interested? 
If you are interested, please send an email to office@medact.org with:
a couple of sentences about why the project interests you / how you would approach it

details of which specific skills you can bring

estimated costings (relative to our total budget of around ~£600)

some samples of past work
We also invite applications with adjusted deliverables and/or budgets if this project is not feasible within your day rate.
N.B. We are also seeking a graphic designer for a similar project on economic justice – if you have capacity to deliver both these projects in the timeframes required, please consider applying for both at the same time.
Latest posts by Medact Staff
(see all)